SOLSTRÅLE
Skip listing
"The process was so smooth, I can definitely recommend IKEA" (customer IKEA SOLSTRÅLE solar panels)
"The process was so smooth, I can definitely recommend IKEA" (customer IKEA SOLSTRÅLE solar panels)
SOLSTRÅLE
Your contractual partner is Svea Solar
Incl. 21% VAT, that you can often get back from the tax authority. Svea Solar will help you.
10
high efficiency solar panels (
410
Wp)
Go solar with Svea Solar
Start saving on your energy bill with solar energy from SOLSTRÅLE
Make the switch to a more sustainable everyday life with SOLSTRÅLE and start producing your own renewable energy – at an affordable price.
Svea Solar have worked, together with IKEA, on a solar offer that works for you, your home and your energy needs. We have selected Svea Solar as our solar partner as their experience, systems and warranty match the IKEA standards of quality and security.
Better energy together with
Kiezen voor zonne-energie met SOLSTRÅLE is gemakkelijk
Het is gemakkelijker dan ooit om voor zonne-energie te kiezen. Van eerste advies tot installatie, IKEA en onze partner Svea Solar nemen je bij de hand.
1. Wensen & mogelijkheden
Samen met een zonnepanelenexpert van Svea Solar bespreek je je wensen en de mogelijkheden
2. Vrijblijvende offerte
Je krijgt een complete offerte van Svea Solar, inclusief alle onderdelen en installatie.
3. Installatie
Als je akkoord gaat met de offerte, zorgt Svea Solar voor installatie en een goede werking.
4. Enjoy the sun
Gefeliciteerd! Je huis heeft nu stroom van je eigen SOLSTRÅLE zonne-energie.
A safe investment for years to come
Our solar partner, Svea Solar, provides a long-term warranty with every SOLSTRÅLE system. Knowing that you're covere, you can just sit back, relax and enjoy the sun.
Warranties provided by Svea Solar
Panels

15

years

Performance

25

years

Installation

10

years

Inverter

10

years
A system fit for every home
A flat roof, a slanted roof, or do you have a dormer window? Svea Solar helps you find a solar system that fits you and your house.
View options
Solar - the IKEA way
There are many good reasons to go solar. From cutting energy costs to protecting the environment, find out what solar electricity can do for you.
Save on your energy bill
Investing in SOLSTRÅLE will not only save you month-to-month on your electric bill, but it could also increase the property value of your home. Together with our partner Svea Solar, we scan the market to make sure you always get the best possible value for money.
Safe investment
A solar system is an investment for the long term. You want to be sure it keeps delivering as you expect. That's why Svea Solar offers installation by certified mechanics and offers you a warranty package on all parts of the solar system.
Protect the planet
The energy from the sun is a free and unlimited resource with little impact on the environment. By harnessing solar energy to power your home, you can lower your carbon emissions considerably – and protect our planet for generations to come.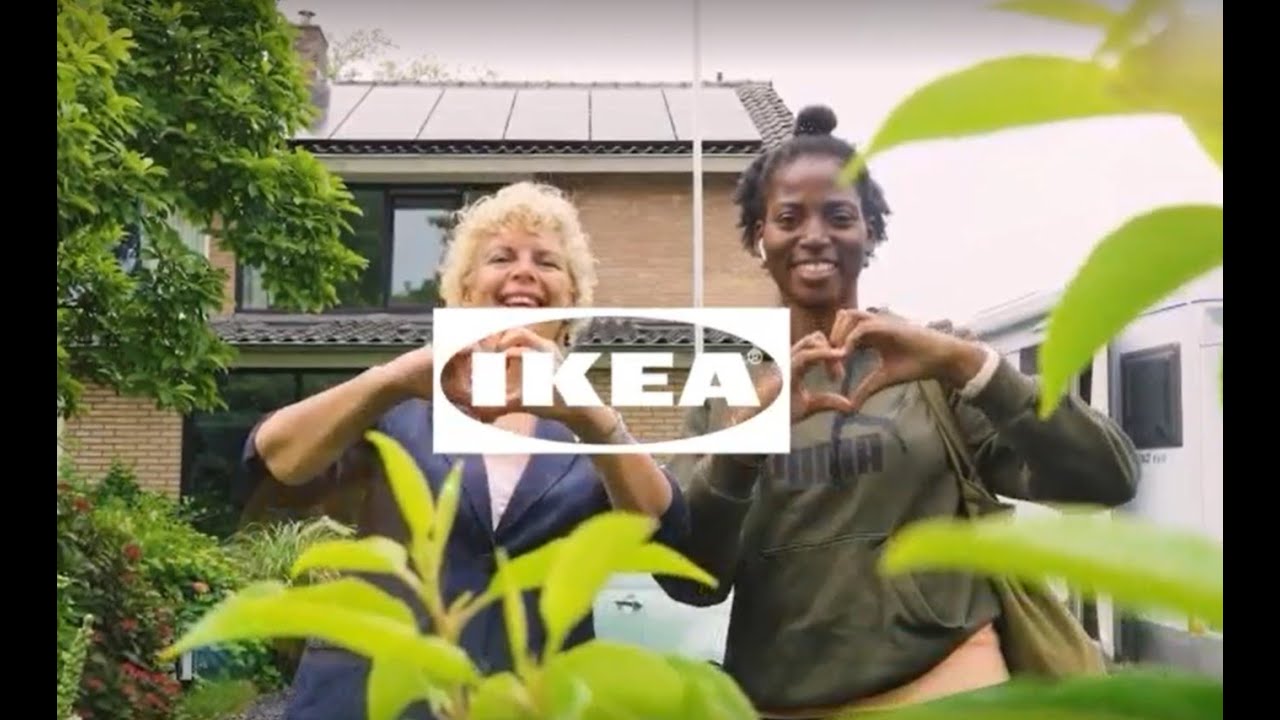 Others preceded you
See why Roos, Monica, Andreas and Kevlin chose the SOLSTRÅLE solar panels.
How solar works
A solar system is simple in it's use, even if it's complex in it's setup. Luckily for you, we've spent the time to do the hard part, so you can just focus on enjoying your home-grown clean energy.
But, if you want to get a simple overview of how solar systems work, here's a handy diagram that will show you the basics.
Calculate your yield with Svea Solar
Request a free quote to see what's possible for your home.
Solar panels also produce energy on cloudy days. Even when it's cloudy, a location usually gets more than two hours of sunlight a day. Solar panels also work well on cold days. They need sun to produce electricity, not heat.

No, our system is also designed for small roofs. Use a calculator to check whether it is worth the investment.

No, the roof does not need to be south-facing. Even if it is more profitable. We also provide installations on roofs facing west and east.

The panels generate some heat, but not so much that it goes through the roof and can be felt in the attic. The risk of fire is very low; fire is usually the result of a non-compliant installation. That is why we choose our installers with care.

Solar panels require very little maintenance. We recommend that they be cleaned every two years to prevent them from losing part of their production capacity.
The solar panels are delivered and installed on your roof. You don't have to transport or install them. We offer a turnkey solution and take care of everything. These are the steps that need to be taken:

Make your own price estimate on our website.
In a telephone conversation with SVEA Solar you will discuss the characteristics of your roof and your electricity consumption. On the basis of this information, they will draw up the actual quotation.
As soon as you accept the offer, SVEA Solar will visit your home for a short technical evaluation, to check whether your roof is in good condition and your electricity installation is sufficiently recent.
You then agree with them on a date for the installation.

BASIC: This is a standard system package that is easy to install on most sloping roofs. The package includes a standard configuration of the components, the installation, the service and the guarantees for a fixed price. It is a ready-made low priced solar energy package.

PLUS: This is a customizable system design that optimizes the configuration of the panels according to your roof and your needs. This means that we design our system in such a way as to optimise energy production and maximise your investment. The system can also be adapted for complex roof structures and additional elements can be added.

The process takes 8 to 10 weeks from the moment you apply for the solar panels.

IKEA has chosen Svea Solar to supply IKEA with solar panels. Together we have selected packages that are tailored to your home and your budget. The installation is managed by Svea Solar from A to Z and you buy your system from them. Svea Solar also provides after-sales service.

We organised a selection process: we asked a lot of companies to work with us and asked them to give us their best price. We also asked them to provide additional guarantees and the best conditions for our customers. SVEA Solar came out on top.