How would you like to experience IKEA?
Shop online
Discover our products around the clock on IKEA.ch or the IKEA App. Get inspired and have your purchase conveniently delivered to your home or pick it up via Click & Collect. You can also manage and track your order online. 
Shopping list
By clicking on the heart symbol on a product page, you can save the items you would like to buy later. You can create up to 10 shopping lists and assign an individual name to each shopping list.
With one click, you can add all or individual products to the shopping basket later for an online order.
If you want to shop in the store, switch to the tab "Buy in store" in the list view, select the desired location and you will see for each product in which department you can find it or the shelf and compartment in the self-service hall.
Gift registry
The gift registry is the best way to get IKEA products as gifts for a special occasion. Add all the products you want to the gift registry. There is a button on each product page which allows you to do this. (You have to be logged in)
Then share the list with your friends and family. They can easily select the products from the gift registry that they would like to give you and add them to the gift basket for an online order or mark them as "purchased" if they would rather buy the gifts for you in the store. It's the perfect way to celebrate!
Shop in-store
Visit our family-friendly IKEA stores. There you can test, touch and experience our products. Get professional advice and then take a well-deserved break in our restaurant or visit our Circular Hub for special bargains. 
Shop & Go
Save time with IKEA Shop & Go. Scan your products yourself easily and conveniently via the IKEA app while you are shopping. Your products will already be in your shopping bag and won't have to go through the checkout.All you have to do is pay at the designated express checkouts.
Save time easily and conveniently with IKEA Shop & Go.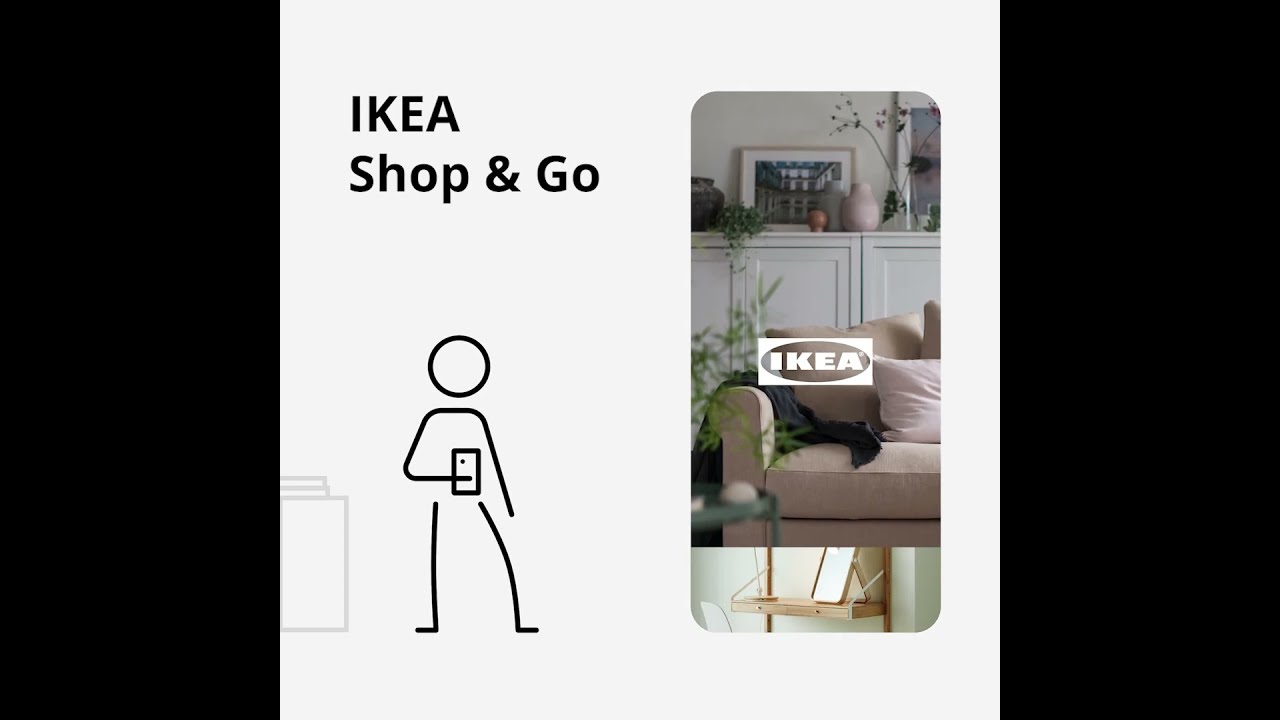 A great place for the whole family to visit
We love having you and your family with us, and we want to make sure that all of you have a great time when you visit IKEA.
In order to ensure a comfortable shopping experience for you and your family, we offer you the following:
Family-friendly furniture displays for you and your family to explore together
Play areas throughout the entire IKEA store: Our supervised Småland play area for children aged three to eight is located right at the entrance.
Other play areas in the showrooms and in the IKEA Restaurant (not supervised). 
Shopping trolleys for children 
Nappy-changing rooms and WCs 
Baby food, microwaves, children's cutlery and baby bibs, children's highchairs and great meals for the whole family can all be found in our IKEA Restaurant
Barrier-free shopping
A wheelchair is available in each of our furniture stores. Just ask at the information desk at the entrance. Lifts can be used to avoid stairs. Our staff will be happy to answer any questions you may have about the direction, the tour through the store and possible shortcuts.
Charging stations for electric cars
As part of our sustainability strategy, we have installed charging stations for electric vehicles at all IKEA stores in Switzerland.
This means you can recharge your electric vehicle at one of our free charging stations in our car parks.
Electric vehicles do not produce any emissions. All of the electricity used at our charging stations is generated from renewable energy sources – for example, solar energy.
At IKEA, we support our customers with sustainable solutions that have a positive impact on people and our environment.
Try out our furniture
Make yourself at home at IKEA and try out our furniture there in the showrooms. Make yourself comfortable on the sofas, lie down on the beds, try out the bed sofas, turn lights on and off and open the cupboards. You can try out everything – no need to ask, but we're always around if you need help.
Once you've found something you like, you can check the price tag for detailed information and other things worth knowing about the product. Among other things, the price tag contains details on the aisle and shelf numbers where the product can be found in the market hall or self-serve area. Sometimes the price tag contains a note instructing you to contact a co-worker who can place an order for you in the goods collection area.
You can do everything yourself – but you don't have to.
The least expensive way to make your purchases at IKEA is to go to the store, buy the products you want and then take them home and assemble them yourself. In this way you can enjoy your new IKEA products immediately.
You can pick up your products in the self-serve area – all you need are the aisle and shelf numbers where they can be found. If the product you want is located in the goods collection area, let one of our co-workers know so that an order can be placed for you. You can then pick up the product in the goods collection area after you pay.
Naturally, you decide whether or not you want to do everything yourself, or just some things. You can find out about all the services available to you here, if you like.
Frequently asked questions
The prices in the online shop are normally the same as at IKEA stores. However, they may differ on occasion due to different special offers and promotions.
Once you have placed your order you cannot change it online. If you wish you can change your order contacting IKEA Customer Service.

If you wish to cancel your order you can do by yourself through your account in order history page. If you don't have an account, you can cancel finding your order here.

If the order is already on your way it probably won't be possible to cancel.
Items are saved in your shopping basket as soon as you click the "Buy online" button on a product page. You can complete your online order via the "Shopping basket". The "My shopping list" function allows you to save, print and send various lists by e-mail. The availability and warehouse locations in your chosen IKEA store are shown on the list. If you would like to order products online, you can very easily move them from the shopping list to the shopping basket.
There are more than 10'000 items available to order from our online shop. We try to show virtually all our products online, so that our customers can discover the entire range. However, there are some products that cannot be ordered online. You can purchase these directly from your local IKEA store. The products available to buy online are identified by the blue "Add to shopping bag" button on the product page.
Here you will find all information about our return policy and how you can return products.
Items handed in or found that have been paid for but not collected are entered on a list at our Customer Service and, due to space constraints, are returned to the warehouse at the end of the day. Please go to the Customer Service desk at the IKEA store and present your till receipt.

If your paid-for product was found, we will refund the purchase price. To check whether your product has been found and handed in, please contact us.
You can hire a spacious delivery vehicle from IKEA to transport your purchased items home. More information is available here.
You have the option of arranging delivery at Customer Service desk.

Our delivery conditions: 
In Vernier, Aubonne, Dietlikon and Grancia, you may bring your dog with you – on a lead – into the IKEA store. In Spreitenbach, St. Gallen, Pratteln, Rothenburg and Lyssach, kennels are available in front of the IKEA store, where your dog can wait for you while you shop.
You might also be interested in: