How to furnish My First Home
Home. The start of a new chapter in the book of life. The beginning of new memories and adventures. 
That's why we want to be with you in every step of the way, and share our furnishing tips - cumulated with 80 years of experience. Go ahead, turn the key and step into your first home.
Preparing to celebrate the festive season? Take a few tips from us at IKEA to create more memorable time and joy in your living room, kitchen and dining room.
Bookmark this page "My First Home" for periodic updates! 
Make Christmas merrier
Why not add nordic magic to your living room? Call upon twinkling festive lights and decors, inspired by Scandinavian roots! Find new additions to the VINTERFINT seasonal collection and STRÅLA lights. 
Shop for Christmas now!
Get more inspirations
Need more ideas while planning for your new home? See photos of IKEA products from real homes around Singapore and Southeast Asia, discover IKEA in real homes shared by the community.
The Living Room - unwind and gather
Create a cosy haven in the heart of your home to make wonderful memories - from games and cuddles, to witnessing a baby's first step... and so much more!
Choosing the right sofa for your living room
Combination - chaise lounge, footstool or separate armchair?
Each brings something different to the room: a comfortable resting area after a long day with hidden clutter, an extra seating space or a chair to hog and call your own. 
Size - planning and measurements
As you plan, consider your living room space and how many people will be sitting on the sofa everyday. And dont forget to factor in the coffee table! Ensure everyone has comfortable walking space.
Material - what's your preference?
Choose from fabric or leather-coated materials; the durability and care level of the materials vary. Leather-coated sofas are naturally durable and easy to clean, and most fabric sofas allow for removal and cleaning of covers.
Uncover the secret to smart storage spaces in many IKEA products
We've got the BESTÅ solution
For storage, organisation or display, discover the BESTÅ fix with customisable colours, doors, handles and compartments. House your gaming consoles and display other beloved items with lighting to complement your furniture.
Find out more
Investing in a rug for your living room? It's a really fantastic interior detail. It adds style and expressions, makes a room more cosy and snug, and also dampens sound while protecting the floor.
When choosing the size of the rug, a good rule of thumb is that it should be longer than the sofa. It gives an airy impression and frames the space well. 
Keep in mind that two smaller rugs can function as a larger one if next to each other! 
Worried about caring for your rug? 
Vacuuming - Regular vacuuming (both sides) is good for the rug (Use the flat nozzle at low power), and if the rug has piles, finish by vacuuming in the direction that the piles lie.
Stains?  - Scrape dry stains gently toward the centre of the stain. Wet stains should be soaked up with paper towels quickly. 
Anti-slip underlay -  STOPP risks of tripping or slipping. The anti-slip protects both the floor and the rug! 



Clever design details
STARKVIND air purifiers are designed for modern living with details to suit your life and home. For example, both models feature clever solutions for storing and hiding power cables.
Choose the setting you prefer
Choose the setting that suits you or set it to auto mode so that it adjusts the fan speed based on the particles (PM2.5*) detected by its built-in air quality sensor.
*PM2.5 are small inhalable particles, that measure 0.1-2.5 micrometers.
Using light to support different activities
Mood lighting softens the contrast between general and task lighting to create a cosy intimate setting. 
General lighting provides uniform light throughout a living space - makes up the "base" amount of light in a room. 
Task lighting provides a concentrated beam of light over a limited area in order to enable specific tasks such as reading. 
Space is important to all actions around the activity of cooking, with preparing the food, eating, socialising and multi-tasking going on in the same area.

So clever use of space is vital, making the best of utilities, worktops, sinks and floor area, and with a thought to how many people will be cooking together.
A kitchen that's custom tailored for you
With the METOD system you have endless possibilities when designing your kitchen. Whether you have a taste for the traditional, love the minimalism in modern style or land somewhere in between, you'll surely find something that fits you.
Discover METOD kitchens
What is a kitchen island and why do you need one?
Kitchen islands are increasingly common in homes. Besides providing more counter space for appliances, the space allows for many activities. Get to socialising, eating, snacking and preparing food at the same time!
More homemade food and bakes this Christmas!
Gear up your kitchen for the festive season! You can also prepare your fresh bakes in our baking cups, paper napkins, trays and more from the seasonal VINTERFINT collection.
Shop Now
The Dining Room - a rustic modern look
Opt for darker tones of black and brown to create a modern and rustic feel in your home. Complemented with the right lighting, both colours provide a cosy warmness that fills the home - just like hot chocolate. 
Take time to eat together
Live to eat or eat to live? Either way, there's no better way to invest in quality time together than to spend it over good food. Big or small, dining tables provide a special place for mealtimes. 

Food for thought: When eating at a dining table, you pay more attention to what you are eating and the activity of eating.   
Shop dining table sets
The Bedroom - rest and rejuvenate
Sink into your bed and feel the worries of the day float away. With our 10-year guarantee on most mattresses, we are sure to give you all the support you need throughout the night. 

Achieve a romantic and relaxing atmosphere in your bedroom with dark coloured furniture sets and coloured walls, and get bed linen and curtains to match the mood! 
Maximise your storage space 
Customise the outsides and insides of your fitted wardrobe for all the storage you need with the PAX system. With unlimited possibilities for size, design and interior fittings, find everything you need to build your very own complete wardrobe. 
Did you know that you can plan your own PAX wardrobe from the comfort of your home?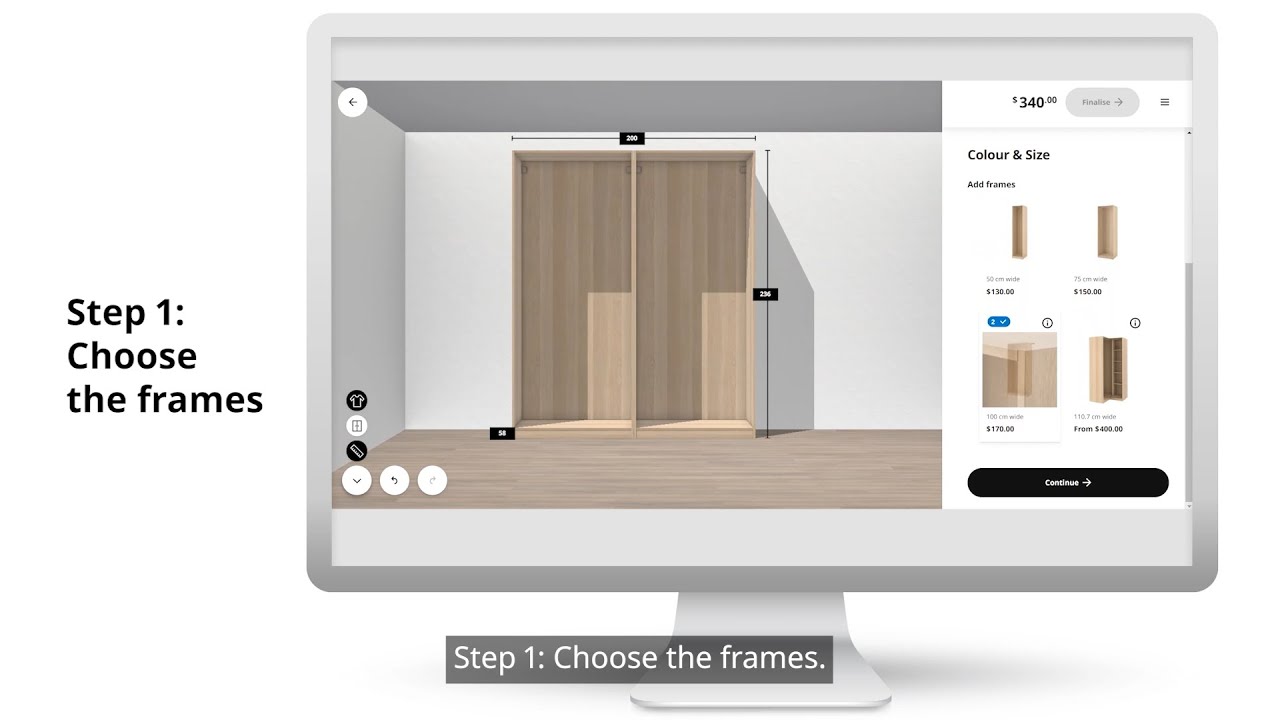 Children's room - play and explore
Our children have lots of work to do - like exploring the world and developing themselves. At IKEA, each product goes through a long process of testing to ensure that we can provide the equipment and environment for them to be safe. Find out more about Child Safety at IKEA.
Children need room for play, and good storage for toys. Find safety and storage in TROFAST - a series of sturdy wooden frames and lightweight plastic boxes that your child can easily slide out, carry and put back again.
The Study Room - boost productivity
Create a conducive atmosphere for study or work at home. Let's start with the basics: have sufficient space for your equipment, have a comfortable chair to protect your body ergonomically, and have lighting protect your eyes. 
Our study room solutions help you set a designated space with limited distractions, and keep a clean desk. Now you can focus on the tasks at hand and boost your productivity. 
Why we love the SKÅDIS pegboard
Craft storage? Makeup organisation? Kitchen utensils? Gardening? Display of photos? Entrance key holder? Kitchen recipe board? 
All of the above and more!

To say the SKADIS pegboard is versatile would be an understatement. Expand your creativity today with the pegboard and many supporting accessories!