With IKEA Home smart, you're in full control
What is IKEA Home smart? It's our app for making your home smarter and your life at home easier. Whether you want a fully smart home or more control here and there, the IKEA Home smart app along with the DIRIGERA hub can help your life run more smoothly. You can raise the blinds, switch on the lights, and turn on the music, all at the touch of a button or at the sound of your voice. You can even set them to come on automatically. And don't worry - IKEA Home smart is compatible with Google Home, Amazon Alexa, and Apple Homekit and Siri products - so you won't have to leave any devices behind.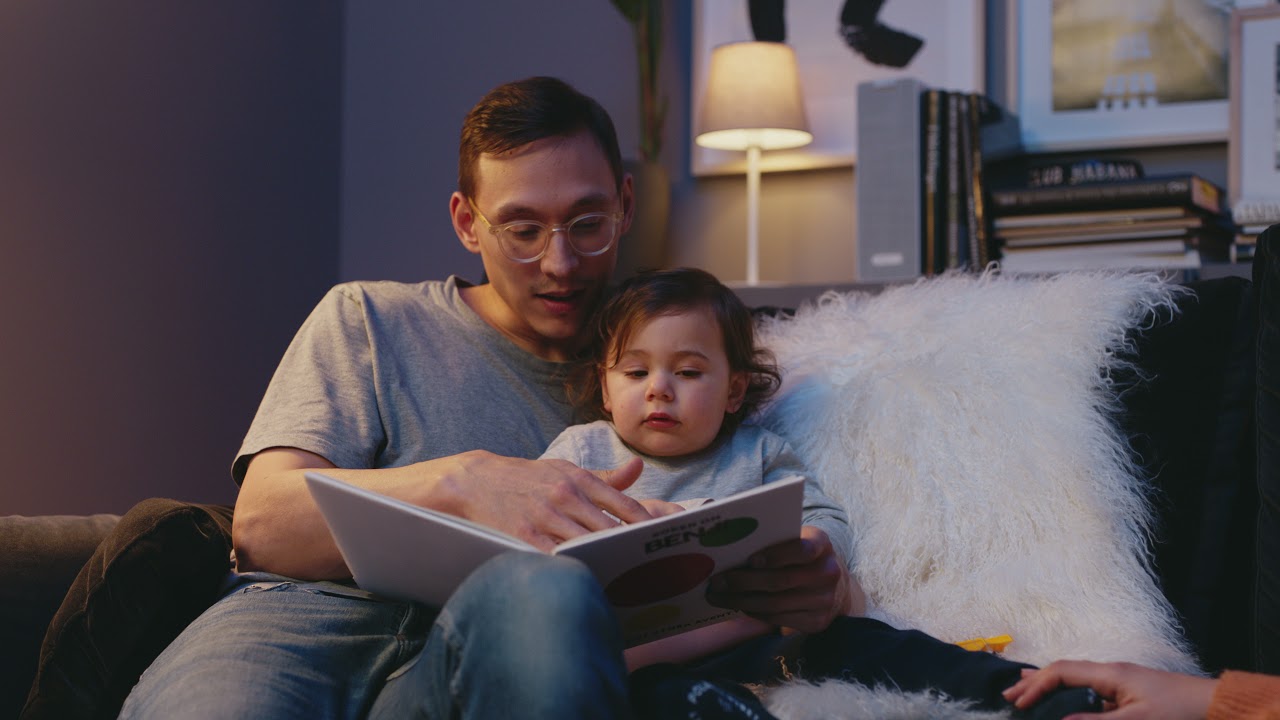 ♪ [upbeat music starts, continuing throughout the video] ♪

A blue and yellow icon of a house appears on screen, above an IKEA logo.

[Female voice begins narrating] - Hej! Have you heard about IKEA Home smart? Our solution for making your home that little bit smarter and your life a whole lot easier?

The icon becomes a dollhouse, and we zoom in through a window, now seeing scenes of real life at home. In quick succession, a hand grabs a glass, a child runs through a living space, a phone is placed on a magnetic charger, and orange juice is poured into the glass.

- Relax. You don't have to change the home you love and live in.

Overhead view of a table set for breakfast. A hand pulls a wheeled utility cart filled with utensils closer.

- Much. You just have to add some smart details...

A child toddles out of a bedroom, holding toys.

- For instance, if you like hanging out on your comfy sofa.

A family is gathered on a living room sofa, reading the child a bedtime story.

- How could we add to that comfort?

The camera sweeps across a sideboard with a lamp and SYMFONISK WiFi speaker.

- What if you could control the lights?

A person screws a smart lightbulb into a lamp.

- Easy! Set the mood with your fingertips.

A finger presses a white remote control, and the bulb lights up. Other light fixtures turn on and off, including one that flashes different colours.

- What else can we make smarter?

We see the family on the sofa again.

- How about sound? You can connect that too. So you won't have to leave the sofa. Only continue chilling, and change the scene to...

The father and child read a book together. A person places a white SYMFONISK table lamp speaker on a sideboard. Another white SYMFONISK bookshelf speaker is placed on a sideboard, and switched on.

- Night club.

The child dances in the living room, as his parents smile and look on.

- And when you have to get up way too early on a Tuesday morning. Why not let the outside world in, nice and slowly, with your connected blinds.

The man is sleeping in bed. Sunlight streams into the room, as grey smart blinds slowly open automatically.

- Yeah. Your life at home is many different things, and finally there is an easy way for you to control most of it, anyway you want it to.

A hand reaches for a mobile phone, next to a smart gateway. The lights dim as the family enjoys dinner together.

- Automatically, with your voice, the app, or with remotes. Like a good night's sleep. It starts with a click.

A motion-activated table lamp switches on as the child runs by. The man silently moves his mouth, and a SYMFONISK table lamp speaker lights up. The couple get ready for bed by using a shortcut button to dim the lights and close the blinds.

- There you go. IKEA Home smart.

We zoom out to a view of the family's home as a dollhouse.

IKEA logo overlay.
Get started with Home smart
Download the IKEA Home smart app
Get started with smart lighting
With IKEA Smart lighting, you can easily customize your lighting at home and adapt it for every occasion and activity. Choose lighting for early mornings, another for late evenings and a third while cooking or working at home. Dim, turn off, turn on, and switch from warm to cold light, with the remote control — wirelessly and whenever you like. Extend your system with a wireless dimmer and our hub and app so that you can control every light source individually. IKEA Smart lighting is easy to install and use, and it gives you every opportunity to make your home friendlier and more practical. 
Help
Getting started with smart lighting
Get started with SYMFONISK WiFi speakers
The SYMFONISK speakers are a collaboration between IKEA and Sonos, so they easily integrate with other Sonos prdoucts. You can stream music, podcasts and radio via WiFi without interruptions from phone calls or notifications. The music keeps playing even when your phone or tablet is not nearby. Control each speaker individually to play music in one room and an audiobook in another, or group them and play the same sound throughout your home.
Help
Getting started with SYMFONISK
Get started with smart blinds
With a remote control, you can control each blind individually or group several blinds together. But when you add the DIRIGERA hub to your home WiFi router and download the IKEA Home smart app, you'll gain another level of control. The hub will seamlessly talk to your connected smart blinds. With the app, you'll now be able to program when the blinds should open/close - simply activate with a tap. 
Help
Getting started and how to use smart blinds
Four ways to control IKEA Home smart
Frequently Asked Questions
What is IKEA Home smart?

IKEA Home smart is an ecosystem to connect your smart home devices - including light, sound, windows, motion sensors and even coffee makers - and put them to work for you, when you need them. With IKEA Home smart, you can create smooth routines for your daily life - think of waking up to your favourite music as your blinds open automatically to let in the sun, while your coffee begins brewing in the kitchen. Or, with the touch of a button, dim the lights and close the blinds when it's movie night at home.

How does IKEA Home smart work?

When you connect the DIRIGERA hub to your home WiFi router and download the IKEA Home smart app, the magic happens. The hub will then be able to talk to your connected IKEA Home smart products. You can add smart lighting, smart blinds and control outlets (to make wired electronics smart). With the app, you'll then be able to steer your home: deciding when the lights should go on and off, when the blinds should go up or down - and set different moods or scenes in the app which you can activate with a tap.

Is IKEA Home smart compatible with my other devices?

Don't worry, IKEA Home smart app and TRÅDFRI products can work with Apple Homekit and Siri, as well as and Amazon Alexa and Google Home. Leave no gadget behind!

Can I use IKEA home smart without a hub?

No, you cannot. Without the hub, the IKEA Home smart app will not control your IKEA Home smart products. The hub is a small device that connects your IKEA Home smart products to your IKEA Home smart app via your home WiFi network, so that you can control your lights and more through a mobile device from anywhere in your home. 

I can't connect my app/phone to my hub. What am I doing wrong? 

Check that the hub's power is on. If not, check that the power supply cable is correctly attached.
Verify that the hub is connected to your home router via a cable and that the router has internet connectivity.
To continue, you need to download the IKEA Home smart app from Apple App Store or Google Play and follow the step-by-step guide in the app to set up your hub.
Follow instructions in the app on how to set-up your hub and how to connect the steering devices and light sources.
Find the QR code on the back of your hub and scan it with your mobile phone, following the instructions in the app. If you have a problem scanning the code, you can type the hubcode manually. You'll find the hubcode on the back of your hub. If you still have a problem, check that all cables are connected and then try again.
Ensure that your mobile phone is connected to your Wi-Fi network; the same network the hub is connected to.
If you have problems, set up the hub by following the steps in the app. You can reset your products by carrying out a factory reset and installing again.