IKEA Family presents Tabled Tales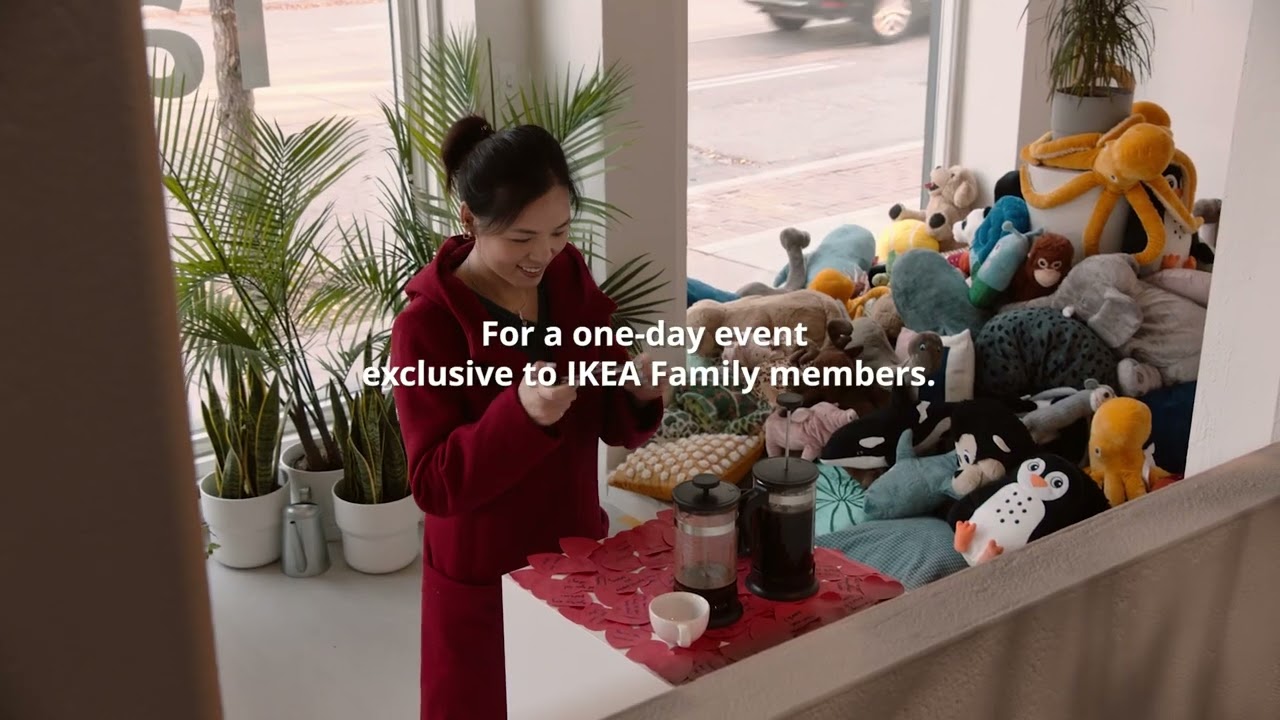 An exhibit inspired by you.
We invited IKEA Family members to share their stories showcasing how IKEA pieces helped bring home to life. We discovered that a dining room table can become the heart of the home, a French press can be a symbol of love, and a fork can help feed your soul. The chosen stories were put on display in a chic gallery in downtown Toronto for all members to enjoy along with their favourite Swedish meatballs. 
Mark's SYDVAST
When my wife, Margaret, and I married in 1995 we were lucky enough to have enough money between us to put a down payment on a rambling old house in Toronto. Filling it with furniture, was another story. After a trip to IKEA, I put all our new essentials together without a hitch. I typically fancy myself an astute furniture assembler, however, one chest had bested me. I tried, again and again, to fit the drawers into their slots, but they just wouldn't go in. After walking away for a bit and coming back to it after dinner with a fresh perspective, I realized my mistake! I was trying to push the drawers through the back because I had nailed the backing to the front face of this beautiful pine piece. Look carefully and you can spy the nail holes in the front. The moral of the story is? Read the instructions carefully, more than once if you have to! They'll never steer you wrong.
Christian's MELODI musikbänk
My wife and I bought our first home in 1984 which meant I had more space for my ever-growing record collection. (Yes, vinyl was still all the rage in the 80s!) I took this opportunity to buy a piece that could not only hold some of my records but display my stereo equipment. Milk crates weren't cutting it and they deserved to be properly shown off. Complete with a turntable, amplifier, cassette deck, CD player, and an AM/FM tuner, this media player has kept us groovin' and movin' together for almost 40 years.
Gary's BENNO
This BENNO case was our first joint purchase as a couple. We had minimal space to work with at the time and being able to display our most prized and precious possessions efficiently was key. Those possessions include an array of DVDs ranging from classic films to sitcoms. One boxset in particular stands out for its colourful sheen and holographic packaging. When the light hits the Quantum Leap series just right, our eyes are drawn to a beautiful rainbow effect on the wall. Every time it happens, I'm persuaded to watch it all over again.
Just like DVDs, BENNO might be somewhat of a rarity these days but that's what makes it even more special. Because while fashion and trends come and go, IKEA pieces such as BENNO are timeless and classic. To still own one feels like such an honour and a privilege.
John + Tamarah's EKTORP
It's 2001. I have just graduated from university, and I have a handful of cash in my pocket from my first internship. Our furniture, at the time, was a mishmash of hand-me-downs. But thanks to the bonus, we were able to buy our very first couch.
It's where we spent many sweet moments with our two children. (They're teenagers now but I'll never forget napping with them on my chest when they were little babies.)
After a few moves and a couple of decades later, this couch is still in excellent shape. We've replaced the cover to change up the colour, but quality furniture like this stands the test of time. 
Monica's FORSBY
This FORSBY dining room table is more than just a table to us. As a family of five, you can imagine the adorable chaos that goes on here! From messy homecooked meals to arts and crafts to late-night life chats. That chaos sometimes results in scrapes, dings, and various fork marks.
Over the years, I've thought, "I really should refinish that table, make it look brand new again." But how could I? When I look at our kitchen table, it represents the centre and heart of our home. With our children growing up and moving on with their own lives, this table lives on with our memories. 
Tamara's SATSUMAS
My sister and I had to take on the overwhelming, emotional task of clearing out our family home after our mother passed away last year. My mother spent 30 years as a nurse helping bring newborns into the world and comforting palliative care patients. This woman could nurture any living thing including plants of all types.
So, when going through her things, throwing away her plants didn't feel right. She was such an avid gardener and loved her houseplants.
I found this plant stand and placed it in the corner of my room near the foot of my bed. Now her plants get a healthy dose of sunlight in the morning and finally have room to grow. Best of all, I can reflect on my mom's incredible life at the beginning and end of each day.
Theresa's SKOJIG
We bought this adorable lime green SKOJIG lamp in 2006 for our new babies' room. We loved its playful cloud design for our newborns to look up at from the changing table. I'm sure many parents can relate to the late-night, sleep-deprived diaper changes! Luckily, the glow-in-the-dark feature provided soft lighting. It gently brightened the room to give us enough light to take care of our loved ones without completely taking us out of our slumber. 
Patrizia's TRYGG
The blue bowls. For more than 20 years, not a day has gone by without them. We've hosted countless family dinners including Pizza Sundays with the grandchildren and no dinner is complete without salad served in the blue bowls.  
This durable, colourful pair has outlasted every other kitchen accessory we've owned. They're truly what inspired our love and devotion to IKEA. Our home is small, humble, and well-loved just like the blue bowls. 
Aleksa's DRACAENA MARGINATA
This potted plant is the first item we bought during my first trip to a store in Canada! I was so nervous because everything looked so different, but I remember how beautiful everything was. On the way home, my sister and I sat on the new mattresses while my dad drove. We slept on them for a week before getting bunk beds. We still use our IKEA water bottles at school! For me, IKEA really helped me and my family on our journey here in Canada. And I think IKEA is wonderful! 
Renate's LERDAL
The move here from Austria was a huge transition. We eventually settled in and found our groove but this new normal was accompanied by feelings of grief over our old life. I yearned for home back in Austria — my friends, family, and even the checkout girl at the local grocery store. Those feelings were amplified around Christmas time. All our family members and neighbours used to gather around the table with mulled wine. They would be met with the smell of real fir and homemade cookies and be surrounded by poinsettias, pinecones, and lots of candles! Yes, real candles would burn atop this chandelier.
I feel so much more at home now thanks to IKEA. They gave us the gift of home as we were able to decorate our space in a similar fashion. This chandelier, in particular, became the centerpiece of traditions old and new. 
Tina's FÖRNUFT
Over the course of my life, I've come to realize that home is not an address. It's any 4 walls that enclose the right people. I also believe that material things are just things until we ascribe meaning to them.
Take utensils for example. Specifically, the spoons, forks, and butter knives from the FÖRNUFT collection. What I admire about these pieces is how much they've created special, unforgettable moments at the dining table. From the heartiest laughs to the saddest cries to uttering, "I made you this special meal because I love you." 
Eunah's ALSEDA
Like most things, we originally bought this banana fibre footstool because it was decorative and functional. But it took on a new meaning after our daughter got a hold of it. She used to stack 3 of them on top of each other in a tall tower and roll on each one to see which would go the furthest. What was a place to rest our legs quickly became our daughter's favourite toy when visiting her grandparents. Even after 17 years, it never lost its shape or sturdiness and our daughter has never lost her sense of play.
Maria's RUSTIK
My husband and I arrived in Canada in the bitterly cold February of 1985 with only two suitcases. I recognized IKEA from the Netherlands, so we bundled up and headed there in hopes of furnishing our basement apartment, including a dining room table.
Little did we know this table would serve more than its original purpose. Sure, we used the table for Fika and for family meals. But it was also great for doing jigsaw puzzles, wrapping gifts, arranging flowers, decorating gingerbread houses, cleaning silver, drying herbs, writing letters, reading books, hosting parties, and so much more. We even bought an extra leaf so we could seat 10. Nowadays it's a work-from-home station and instead of napkins and trinkets, the drawers are filled with USB sticks and office supplies.
We're always finding new and creative ways to utilize this table. Who knows what we'll use it for next. One thing's for sure, it'll bring our home to life. 
Joe's KLOKKE
While at home on mat leave with our 6-month-old son, my wife became enthralled by the world of daytime television. One afternoon, the Marilyn Denis show announced an office makeover contest. At the time, my home office (if you could call it that), was an empty spare bedroom with my clunky childhood desk and an endless mess of cables. My wife entered it immediately.
Next thing you know, my bland office is getting the makeover of a lifetime with new furniture from IKEA.
My wife had talked about my love of music in her submission so there were so many personal touches, like this IKEA clock with guitar picks. My wife has done a lot of crazy things to surprise me but this took the cake. I love having such a cozy space I can call my own and I have her to thank! 
Katie's UPPHETTA
When my boyfriend and I first started dating, he shared his passion for coffee with me and would make us a fresh brew every morning using his IKEA French press.
Unfortunately, I had to move back to the U.S. while he stayed in Europe. Then Covid hit. We were separated for so long and I missed him so much. I ended up buying a French press of my own. It always made me feel connected to him whenever I made my own coffee.
After 3 years of distance, we finally moved in together into a home in Toronto. And just like us, our French presses were reunited. 
Emily's GURLI
I bought this pillow for my very first apartment. This place was... everything you'd expect in a starter apartment. A first-floor walk-up in an unfamiliar neighbourhood, a stunning view of the parking lot, disruptive neighbours… you get it.
Even in this unideal space, I was excited for total independence! My family and home life was complicated so let's just say I had been looking forward to this for a long time. Unfortunately, the novelty wore off fairly quickly and I began to realize that being on my own can feel really lonely. Adulting is hard guys!!
One night, as I'm having an anxiety attack over, well, everything in my life, I see this pillow in the corner of my eye. I held it until I fell asleep and for many nights that followed. I guess being an adult means trading in your stuffed animals for throw pillows?
I've since upgraded my living situation and leveled up in life. But that bright, sunshine yellow pillow still gets me through all my cloudy days.