How to plan and buy PAX for your home
We all have a need for storage, whether it's clothes, shoes or accessories. To have everything nearly organised inside a stylish and functional wardrobe will make your everyday life much easier. Our wide range of storage solutions offer great flexibility to suit your needs, whilst having the best quality that you can count on. Proof of this is the 10-year guarantee that come with our PAX wardrobes and interior organisers.
Same great features, brand new colours!
Discover your dream wardrobe solution in our brand new dark grey and beige colours, complete with inserts and accessories to match.
With so many more options, PAX makes all your dreams come true.
Did you know you can plan your own PAX wardrobe from the comfort of your home?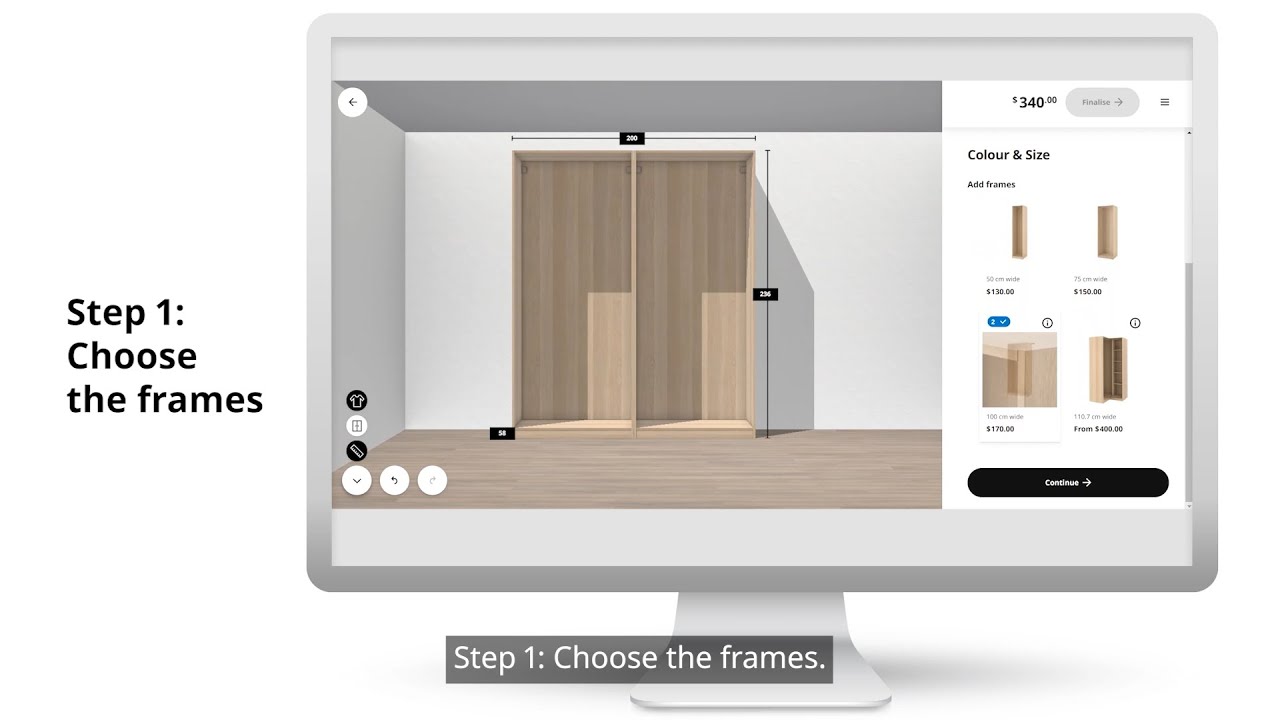 Your step by step guide to create the storage of your dreams 
Our PAX wardrobes are built to last and can be combined in various ways. Just choose frames, doors and KOMPLEMENT interior organisers to create the storage space of you dreams that you can enjoy and transform for years to come. 
Here you'll find simple steps to help you plan your dream storage solution.
Step 1: Measure
It's really important that you measure the space that your PAX will be going in first, then plan what size wardrobe will be able to fit. Here are the measurements that you will need:
The width (w) of your space, to determine how wide your wardrobe should be
The height (h) of your space, this will determine how tall your wardrobe should be
The depth (d) of space, this will help you decide if you need a shallow or deeper wardrobe, and if you need sliding or hinged doors
Remember, hinged doors need more room to open than sliding doors so make sure you have enough space!
Step 2: Choose the frames
Once you have your measurements you can now pick the best combination of frames to fit the space.
Choose which width you need: 50, 75 or 100cm
Choose the perfect height: 201 or 236cm
Remember, if you choose the 236cm frames, you need a ceiling height of 250cm or more to fit them once assembled.
Choose which depth frame you need: 35 or 58cm
Choose the colour frame: White, White Stained Oak, Brown Stained Ash or Black-brown
Select the number of frames - don't forget you can combine different sizes to create a perfect solution!
Example: if your space has dimensions of 160(w) x 250(h) x 60cm(d), you would be able to fit a wardrobe that is 150x236x58cm. This means your combination could be made of:
2 x 75cm frames, or
1 x 100cm + 1 x 50cm frames, or 
3 x 50cm frames
Step 3: Choose the doors
Or don't choose any! With the PAX system, it's entirely your decision if you want your wardrobe to have doors or not. With sliding or hinged doors, you can opt to add an extra bit of style, or use mirror doors to utilise the space - and you can hide everything away! Or you can choose a modern and stylish look and have an open solution - perfect for walk-in closets! 
Hinged doors
Hinged doors are great when you have the space to open them because you have the perfect overview of all your things when the doors are opened wide. Don't forget to buy handles & knobs to really show off your personality.
Choose the style
Choose width, 50cm or 25cm
Choose the height, 195cm or 229cm 
Choose the number of doors, for every 50cm of frame you need 1 door
For example: a 100cm frame would need two 50cm doors. A 75cm frame would need one 50cm and one 25cm door.
Sliding doors
The practical advantage of sliding doors is that they don't take up much room, saving floor space in front of your wardrobe - perfect for small space living. Sliding doors are sold in pairs, and are suitable for frames that add up to 150cm or 200cm.
Choose the style
Choose the width: 150cm or 200 cm
Please note, for 150cm doors you will need to use two 75cm frames. 
Choose the height: 201cm or 236cm, choose the same size as your frames!
Step 4: Add interior fixtures
The KOMPLEMENT series contains everything from clothes rails, shelves and drawers, to baskets, shoe racks and jewellery trays. Think about your everyday needs, what you need easy access to and the best way to organise your belongings. Do you have a lot of shoes? Then don't forget a pull-out tray with shoe rails. Plenty of trousers? Then you need a trouser hanger. If you like to organise your outfits the night before, then you need a valet hanger.
Don't forget to pick the correct depth interiors to match your frames!  
Step 5: Add finishing touches 
Add a few extra touches to your PAX combination to really make the most of the space, and to add a little luxury to your solution.
Don't forget one of the key components to your wardrobe, handles or knobs for your hinged doors! Our handles come in many different sizes, shapes and colours so you can add a little extra style to your doors.
Utilise every inch of space inside and on top of your PAX wardrobe with our range of storage boxes and baskets. Easy to pull out and simple to fold up when not in use, these handy accessories keep everything in its proper place and help maintain your wardrobe.
Now you don't need to worry about getting bright light in your eyes, or it waking up your partner! Start the day when you open your wardrobe and the soft lighting switches on. Or, choose to place cabinet lighting on the top of your wardrobe to add a cosy atmosphere to the entire room.
Need more help & inspiration?
Do you need more help to plan your wardrobe? Use our PAX planner to help guide the way. Or take a look at our Wardrobe brochure to get more inspiration!
No desire to plan yourself? Check out our finished combinations instead! 
You might also be interested in...
Looking for a smaller storage solution for your clothes? 
Shop our wide variety of single and small wardrobes which come with interior fittings like clothes rails, shelves and locks.
Get more tips on how to build your dream PAX wardrobe.
From outsides to insides, say goodbye to wardrobe battles and messes with PAX. 
Up your wardrobe anti-clutter game
Get a system to handle and care for your clothes in an effective way to reduce clutter in the wardrobe.