Skip to product list
Wardrobes
Calling all sneaker collectors, denim lovers, T-shirt savers and hat hoarders. Whatever you love collecting, our wardrobes make room for it all in a style that will suit your tastes and budget.
Did you know that you can plan your own PAX wardrobe from the comfort of your home?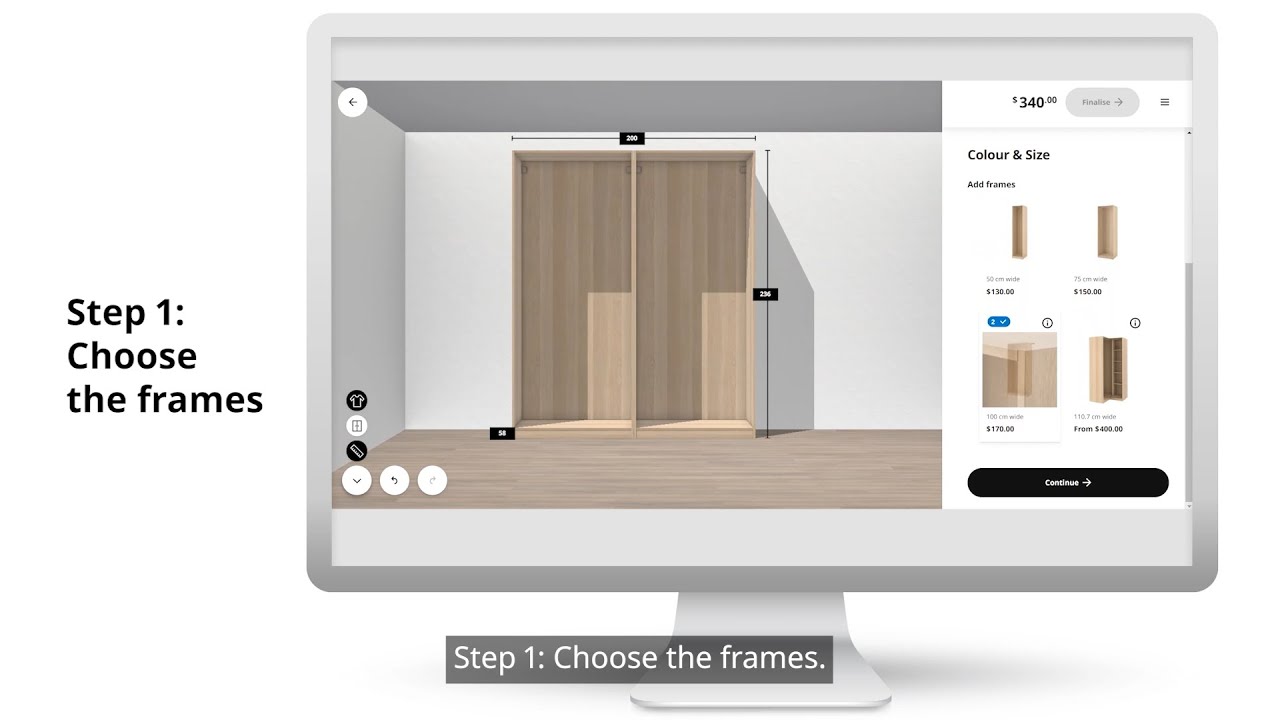 Secure your furniture to the wall
Make sure you properly fasten all large and tall furniture with the included wall-attachment devices. This is to prevent it from tipping over. Find out more about possible risk factors in the home and how you can avoid accidents.
See more about furniture safety
Organising your bedroom does not mean discarding old furniture for newer and bigger pieces to fit all your belongings, match them with versatile storage furniture from IKEA that could blend easily with your existing ones! To create a truly organised and functional bedroom, you have to consider every corner and wall in your room. 
If your room is unable to fit an entire wardrobe's length, an L-shaped corner wardrobe can do the trick to maximise storage space. Make your spaces functional by creating a vanity area with corner wardrobes or mirrored wardrobes, so you can enjoy some privacy to look your best each day. 
Enjoy the feeling of casually walking through and browsing your closet to pick your outfit for the day? Customise a walk-in wardrobe you've always wanted to make dressing up more exciting! Pick from IKEA's wide variety of walk-in wardrobes and hallway wardrobes, many of them also come with interior fittings such as clothes rails or shelves.  
Still prefer the classic look of bedroom hinged wardrobes with knobs and handles? Hinged doors are useful, as they display the entirety of the wardrobe at once. With both doors open at once, it's possible to store and retrieve bulky items more easily, in which sliding doors will pose inconvenience to. 
Only you know what's best for you, so plan your own wardrobe to suit your needs! For rooms with limited spaces, an open storage system with high shelves is ideal, because it maximises space and helps you save space without wardrobe doors. An open storage also displays your items for easy viewing, so you don't have to waste time rummaging through each drawer and shelf.
For rooms with bigger spaces, you can opt for a closed storage system with wider interiors to fit your ever-growing collection. Wardrobes with doors shield your clothes and accessories from dust to make cleaning easier. Start designing your own wardrobe with the help of IKEA's virtual storage system planners, such as the PAX wardrobe, JONAXEL storage and BOAXEL storage.