Business interior design service
From £125*
3 x 45 min online meetings
Get help designing your business interior, whether it be a store with a strong retail brand, stylish and comfortable student accommodation or a flexible office space.
Meet with one of our interior designers to discuss transforming your workspace and business. Work together to discuss your requirements and ideas then sit back and relax and let our designers create a detailed plan for your business to suit your brand and budget with solutions to fit your needs. 
For a quotation and booking information, please fill out our pre-booking form and email it to us at ikea.interiordesignservice.gb@ikea.com.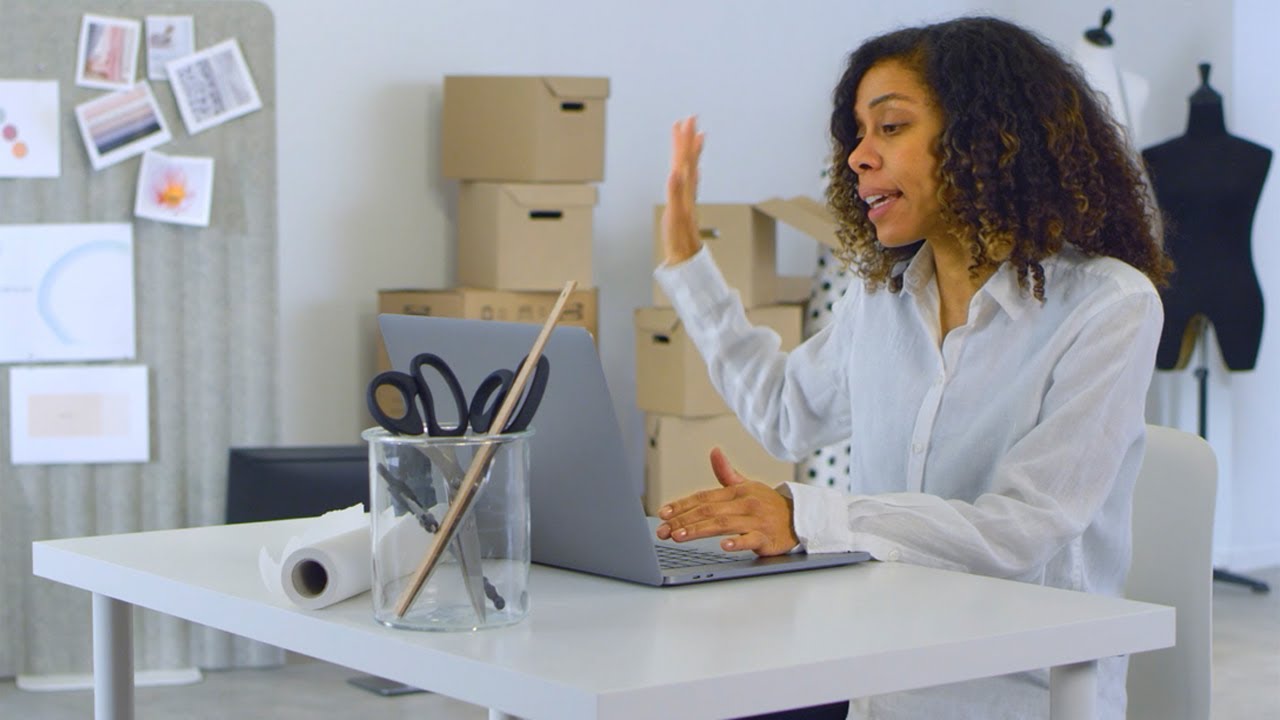 How the service works
The service includes up to three appointments comprising of:
up to 45-minute consultation appointment 
up to 45-minute presentation of plans and feedback
final up to 45-minute appointment with updated plans and sharing a payment link for the product order.
Please note that you may be subject to additional charges if your plans or requests change after your first consultation appointment. If you require more than the three appointments, an additional consultation can be booked for £65.
Prepare
Take pictures of the space you want help with and measure walls, windows, doors and other things that can affect the interior.
Click here to read our measuring guide. If you have a floorplan for your space, please provide this along with the pre-booking form.
Start thinking through the style, colors and materials fit with your brand identity - take a look at our inspiration gallery for ideas.
Get a quotation
Please fill out the pre-booking questionnaire and email it to us at ikea.interiordesignservice.gb@ikea.com so we can provide you with a quotation and understand the inspiration and details of your project. A member of our team will then be in touch with you with a quotation and to agree a date and time for your meeting. Once agreed, you will receive a payment link to book the service.
Create
Work together with our Interior design specialists remotely to create your dream workspace.
When you meet your interior designer, you go through your brand identity, needs and wants together. The initial concept will be created during the first meeting with our expert, and you will take the final, fully developed project with you after your second meeting. Find out more about what you'll get from the designer below.
What you'll get from the designer
2D interior design (top view)
Our designer will present the recommended arrangement of furniture and decorations in the room.
Wall and floor finish suggestions
The interior designer helps you explore the range of wall and floor choices.
Detailed Wall elevations
Detailed wall elevations help you to visualise the space and combine aesthetic with functionality, our designer will present the recommended spacing of furniture and decorations in the room.
Product collage
We will prepare for you a set of products that match your needs, style and colour palette.
Lighting plan
An interior designer can plan a lighting system so that you get light from different directions and in several places. This way you can be sure that you have good lighting throughout the room.
Price examples
The price for planning a complete interior design solution is based on the number of square metres that you want to decorate. Take a closer look at examples from three different companies with varying areas, so that you can get an estimate of the price for planning your project.
The store – smart space with a strong brand identity
A small retail store. The brief was to create smart solutions that fit a lot in a small area. We designed the space with products to enhance their brand and provided various solutions to display and merchandise their goods in an attractive way that is enjoyable to shop.
Area: 54m2
Cost:
IKEA Business Network members: £125*
Non-IKEA Business members: £250*
*excluding VAT and products
The student accommodation – stylish and comfortable
A student apartment in the city center that is vibrant, comfortable, and stylish with solutions to encourage socialising. Each apartment has been designed to incorporate clever, space saving solutions providing areas for studying, dining, sleeping and relaxing as well as a communal space and plenty of storage.
Area: 160 m2
Cost:
IKEA Business Network members: £215*
Non-IKEA Business members: £ 430*
*excluding VAT and products
The office – flexible solutions for changing needs
A large office space. An office where the interior can be flexible to adapt to the changing needs of employees and customers. The space has been designed to allow for individual focused work, spontaneous meetings, creative workshops and food /coffee.
Area: 342m2
Cost:
IKEA Business Network members: £488*
Non-IKEA Business members: £976*
*excluding VAT and products
Frequently asked questions about our Business interior design service
What do I need to prepare before the interior design consultation?

Fill out the pre-booking questionnaire and email it to us at ikea.interiordesignservice.gb@ikea.com so we can provide you with a quotation and understand the inspiration and details of your project. You will need to provide dimensions as part of this form and any additional information, inspiration or photos you can provide to help our designers prepare in advance to make the most of your time together. If you are unable to send this information prior to your appointment, you will be asked to reschedule to an alternative day/time.

How long will it take to complete my design?

Your design may take up to 4 weeks to complete, please note timings may vary depending on the size of the project and designer availability. Your designer will give you an estimated completion date after assessing the needs for your space and discussing your project in detail after your first consultation. Please share if you have a completion date in mind and we will do our best to accommodate.

Can the interior designer use my existing furniture in the planning?

Yes, absolutely. The interior designer can make big changes with what you already have in your home. You can get suggestions for a new furniture or tips on accessories to add to what you already have.

Can you do site visits?

We are unable to do home/site visits as all our interior design services are accessible online only.

Do you offer a measuring service?

As we are an online service, we are unable to offer a measuring service.

How do I pay for my order?

The Interior Design team can process your order online and send a secure paylink, alternatively you can purchase yourself online, or in store

Do you offer Finance for businesses?

Unfortunately, Finance options are not available for IKEA for Business customers.

Can I purchase via BACs transfer?

Yes, if you open up an IKEA for Business payment card, we can accept payment via BACs transfer.

To open an IKEA for Business Payment card please login to your IKEA for Business account or IKEA Business Network account, or sign-up if you do not have one, and fill out the application form and submit to uk.business@ikea.com.

Please ensure that the terms and conditions are agreed to and signed by a Company Director. You will also need to enclose a copy of a current utility bill.

What happens if I need to cancel or reschedule my meeting?

Please give us as much notice as possible if you wish to cancel or rearrange your appointment. If you wish to cancel your appointment, please click on the cancellation link in your confirmation email or to rearrange, please contact us at ikea.interiordesignservice.gb@ikea.com

Can I change/revise my design after my final consultation?

We will be happy to make revisions or provide alternative options after your final consultation, however, please note these will be charged at an additional cost of £65 for small changes or up to your full-service fee for major changes and should be arranged directly with your designer at their next available opportunity.

How many options will I receive?

You will receive one option as part of the business interior design service so please make sure you share as much information and detail about your design needs before and during your first appointment to make the most of your designers time. Additional options and revisions will incur a charge of £65.
Contact us
Our interior designers are here to help you transform your space. If you have any questions before or after your meeting or would like to get a quotation or discuss our business service, please do not hesitate to contact us at ikea.interiordesignservice.gb@ikea.com.
You can do everything yourself, but you don't have to
As extra services (not part of this one), IKEA can provide everything from home delivery to decoration service (where the interior designer finalises the project in place).