In my kitchen… by stylist Hans Blomquist
Interiors stylist Hans Blomquist thinks as much about the emotions and needs a space has to satisfy as its look. He's put modern Scandinavian practicality at the heart of his Paris apartment's traditional setting to create a beautiful, relaxed home.
Discover the smartness of drawers
"For the base units we picked drawers rather than cupboards – drawers hold so much stuff and it's easy to see what you have as soon as you pull them open."
"
The feeling of light and space in the kitchen is great. It's a room that doesn't need too much of anything
"
Hans, stylist, Paris
Show off your treasures
"Storage can tell a story as well as be practical. Our kitchen shelf is a great place to display collections and give the room personality."
"We don't throw lots of parties, but we do cook a lot of dinners for friends…"
"Having practical kitchen and dining areas that are also enjoyable to use is important. We have lots of mismatched antique and vintage IKEA chairs that we've collected over the years. The mix makes things less 'perfect' somehow. It's relaxed and inviting. For me it adds texture to the space. As a balance, we enjoy simple table settings – plates, cutlery and a wrinkled linen tablecloth are all that's needed! I think the warmth of natural materials brings a dining table and a home to life."
"
My partner's taste is classic while mine is typically Scandinavian, but we both enjoy vintage items. The kitchen is a great example of both elements combined
"
Hans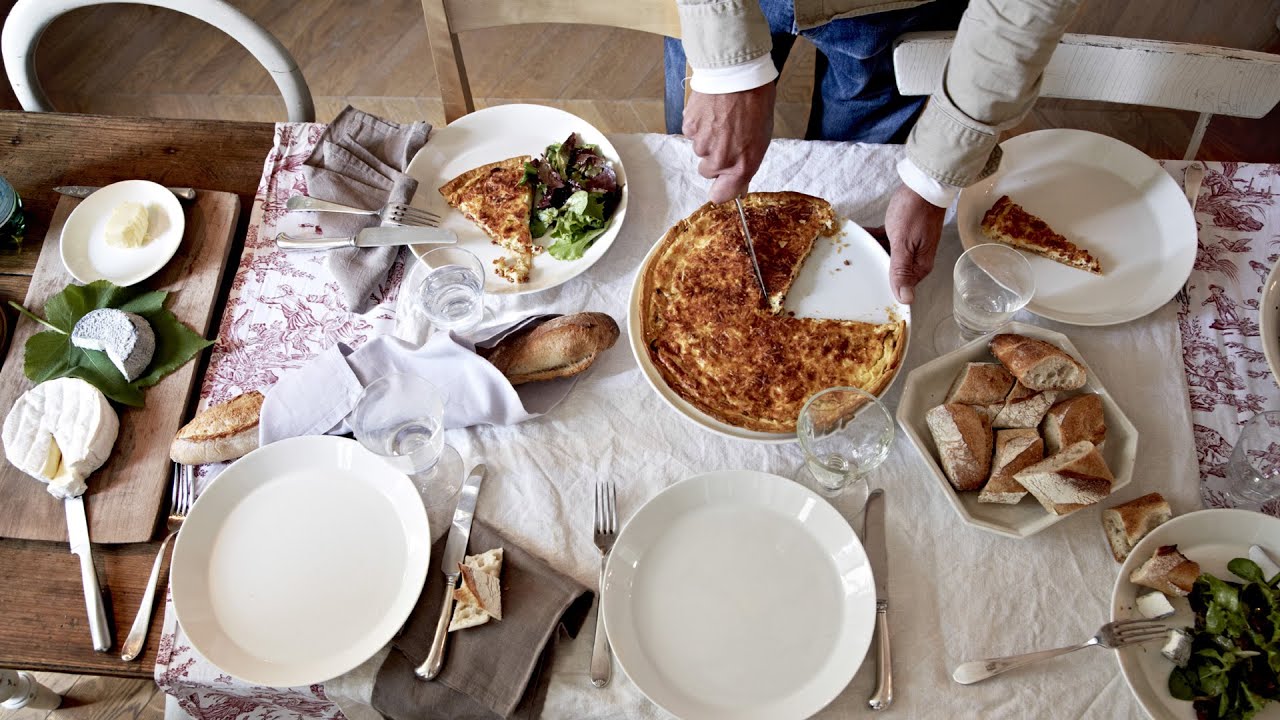 Hans's lunchtime quiche recipe
You will need: 500g pastry dough, 200g lardons, 2 chopped leeks, 1 cup crème fraîche, ½ glass of milk, 2 eggs, mustard, salt and pepper, ½ cup grated cheese
1. Preheat the oven to 375°F. Roll out your pastry, place it in a flan dish and line with paper. Add baking beans and bake for 10 minutes.
2. Meanwhile fry the lardons and leeks and set aside.
3. In a bowl, mix the crème fraîche, milk, eggs and a generous spoonful of mustard. Season with salt and pepper.
4. Spread the leek mix over your pastry base. Add a layer of grated cheese – Emmental or Gruyère work nicely. Pour the crème fraîche mixture over the top.
5. Bake at 350°F for 30-40 minutes until the quiche mix is gently firm and lightly browned on top.
We love to see our customers get creative with our products. Go for it! But please note that altering or modifying IKEA products so they can no longer be re-sold or used for their original purpose, means the IKEA commercial warranties and your right to return the products will be lost.
Made by
Photography: Kristin Perers