Home visit: tips for a playful kids' room makeover
The brief? Update a shared kids' bedroom by adding smart and affordable storage solutions and imaginative ways to play. The result? Two very excited children!
Let play take centre stage
For brothers Henri (7) and Toni (5), their bedroom is also their playroom – a space to play freely and let their imaginations run wild. Right now, they love everything jungle, so adding botanical and animal print textiles was the easiest and most cost-effective way of adding character to their all-white room. Stylist Ashlyn hung curtains in front of the curved bay window to transform an unused space into a theatrical stage (complete with gym mat for more acrobatic performances). She also added a rail of hooks under the windowsill – an easy-to-reach height that's the perfect place to store costumes for a quick outfit change 'backstage'.
Find winning ways to store
'The boys often build up whole worlds that start from their bedroom and run through the rest of our home – storage tubs let them carry toys from room to room,' says Nina. Stylist Ashlyn thought the TROFAST tubs looked a lot like a winner's podium, so she used washi tape and wooden numbers to bring it to life – creating another game in the process! Remember to use the fixings provided to secure furniture to the wall.
Plan for togetherness and alone time
If siblings are lucky enough to share a big room, experiment with a layout that encourages both togetherness and private time. Being close in age, the boys' bedtime routines happen at a similar time – so it works having their beds side by side. 'Their personalities do sometimes clash, but I think you learn a lot from sharing a room. When they need time apart, Henri has started gathering pillows and making his own reading den behind the curtains,' says mum Nina.
Bring the playground home
As much as we embrace technology playing a part in our children's lives, sometimes you can't beat an old-school game. Hopscotch is active, easy to play and even easier to set up indoors. You don't need a whole playground, just a few paces of free floorspace, a roll of colourful washi tape and something to use as a marker, like a bean bag or a soft toy. Hop to it!
Before: lots of space and potential
When Nina and her boys met our stylist Ashlyn at their home in Germany, they talked about making the boys' room more practical and more fun. Nina was looking for storage solutions in-keeping with her home's natural, wooden look (instead of bright plastics) while complementing pieces the boys already had, such as the pine IVAR shelves. 'We love being outdoors in the forest, so we try to bring that feeling home with us,' says Nina.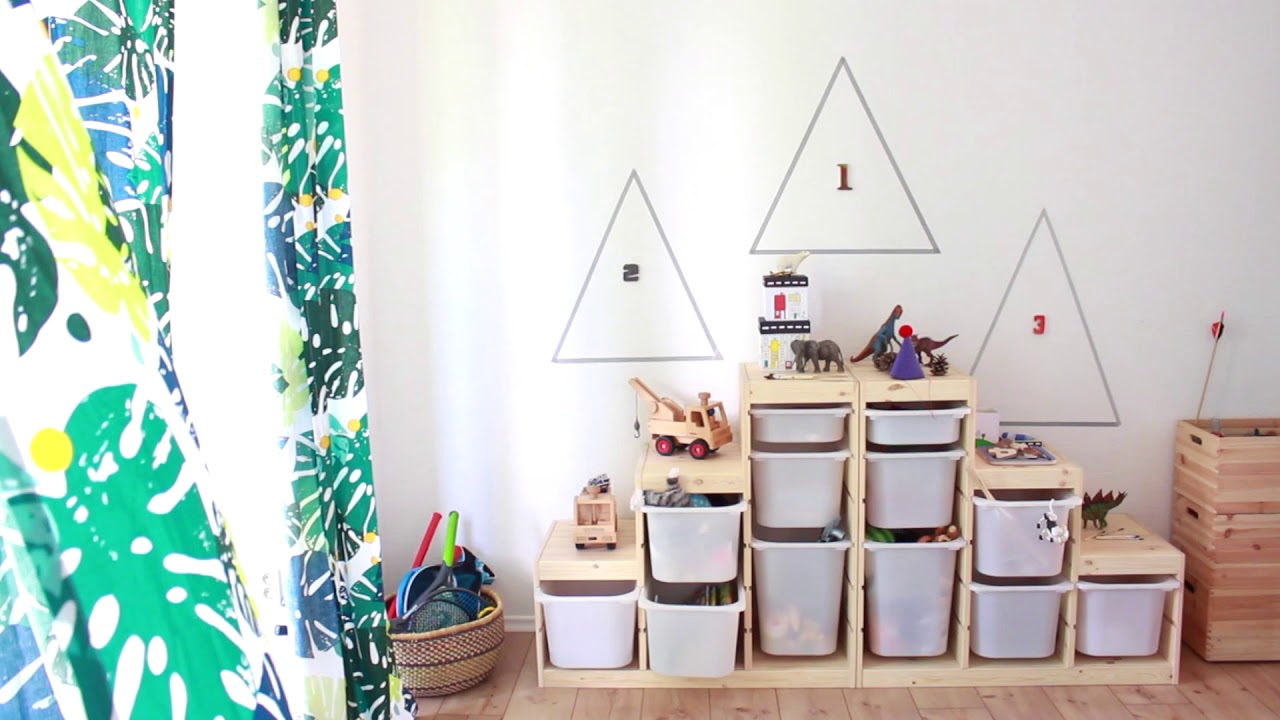 See the makeover come alive
Watch the video to see more of Henri and Toni's bedroom makeover.
We love to see our customers get creative with our products. Go for it! But please note that altering or modifying IKEA products so they can no longer be re-sold or used for their original purpose, means the IKEA commercial guarantees and your right to return the products will be lost.
Made by
Interior stylist: Ashlyn Gibson
Photographer: Dan Duchars
Follow Nina on Instagram: @ninaweinreich