Home visit: a minimalist interior with character
Moving to this attic apartment gave the owners more space. Rather than fill each inch, they took a minimal approach, furnishing around what they needed to live well and adding pieces with family history. Take a tour and see what you gain when you live with less…
More sociable
The kitchen was first to get an update when the owners moved in last August. 'A black kitchen was on our wish list, and an island,' says Steffen, who shares the apartment with his husband Alex and their two rescue dogs, Flip and Zlatko. With the island, the couple gained a more open way to cook. Getting more drawer and cupboard space was great too, but knowing what to keep where took some thought. 'My Mum gave us practical tips,' says Alex. 'Use the drawer opposite the dishwasher for plates so emptying it is easier, have the drawer for pans near the cooker, put things you use a lot on the shelves.'
More open
Steffen and Alex planned a 'do everything' room. To their kitchen and island unit they added a sofa; 'Alex's idea – the one we have was passed on to us, we just bought a new cover.' They brought in a round table – 'the shape is very sociable and rather than get a new table, we kept the legs of our old one and swapped on a new top.' Creating space for family treasures was important too – 'the side table is from Alex's dad's first apartment, the dresser where we keep our glassware is his grandmother's. It's nice to use things with history.' It all adds up to a more relaxed way to live. 'You feel it from the start of the day, sitting on the sofa, enjoying your first coffee…'
"
The space in this room makes me happy. It isn't too full – you can breathe. You can have a telephone spot, you have the sofa, you can cook, you can eat… This is where we live the most
"
Steffen, Bessenbach
More connected
Create a break-out corner in any room. 'Alex wanted a place where he could use the telephone and call his mum and his family,' says Steffen. An easy chair and neat, wall-mounted cabinets create the perfect spot. 'The phone was my parents' – we salvaged it from the basement – it works fine. Sitting for a while, chatting on a landline, rather than walking round on the mobile, is real slow living.'
More welcoming
When you're big on entertaining, making guests feel welcome starts with a hallway that gives a warm first impression. A mix of storage, from hooks and rails to baskets and closed cabinets, is an effective way to keep things that need storing in this high-traffic area under control. 'It's practical and neat but it's not too cold or impersonal – there is still some personality, you need that,' says Steffen.
More time together
What difference can a sofa make? Before getting the modular VALLENTUNA sofa, Steffen and Alex had the IKEA PS sofa from the 2012 collection. 'It's been well-loved, but we're a family with two dogs now. We've been dreaming of creating a cosy sofa corner with enough space to be together withouat being on top of each other,' says Steffen. 'The first day with our new sofa was so nice – all snuggled together. It's perfect for us – you can clean the covers, it's affordable, it's comfy. Now we'll spend more time in here.'
More peace
The bedroom is stripped back to the bare essentials – bed, good linen, bedside tables and lamps. 'It's very calm in here, there are very few distractions. It's made for sleep,' says Steffen. And does the blue wall help? 'The colour has been a gradual process – in our old apartment every room was a different shade of grey. When I knew we were moving here, encouraged by Instagram, I decided I wanted to have more colour. And so it grows…'
Taking a step back gave us more…
A fresh start
'I grew up here,' says Steffen. 'My father still lives in the apartment one floor below us. When we moved back from the city, it felt like the time to make a new beginning together. And to be close to nature – now we can walk out and be in the hills, walking with the dogs for a couple of hours every day.'
Room to experiment
'I enjoy moving our things around, bringing out things we have put away in the basement and swapping them with pieces we want to take a break from.'
Showing who we both are
'I am kind of minimalist and Alex loves to have little things everywhere. This apartment is a mixture of us both. For me that's important because in Cologne, Alex lived with me in my flat but this is our flat so it should combine our things.'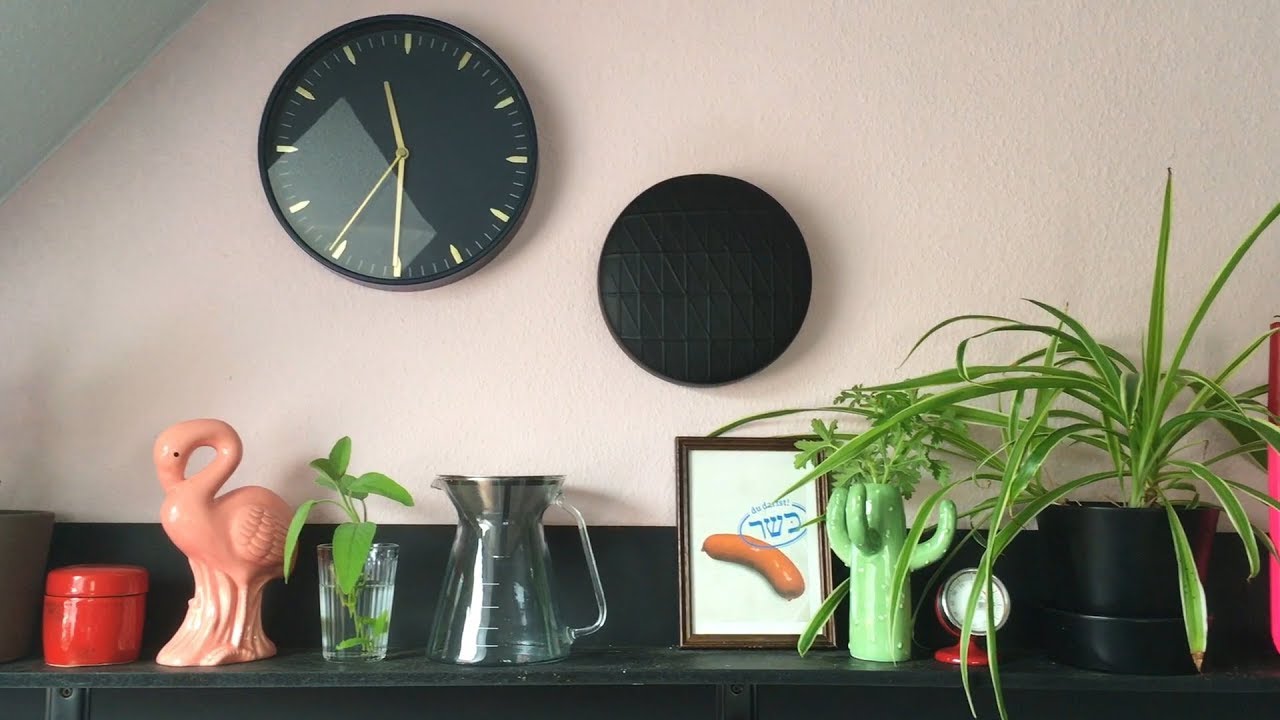 Life in an attic apartment
Take a look around Steffen and Alex's top-floor apartment in the Bavarian hills.
Higher living
This 90m2 apartment covers the top floor of an apartment block built in 1980. The design mixes the relaxed, inclusive nature of open-plan living in the main kitchen/dining area, which includes a sofa, with the privacy of separate rooms. The second bedroom is a workspace for Alex. A small balcony leads off the kitchen/dining room.
We love to see our customers get creative with our products. Go for it! But please note that altering or modifying IKEA products so they can no longer be re-sold or used for their original purpose, means the IKEA commercial guarantees and your right to return the products will be lost.
Made by
Interior stylist: Emily Henson
Photographer: Lina Ikse
Follow Steffen and Alex on Instagram: @spessart.attic