Home tour: transform a BILLY bookcase with fabric
The BILLY bookcase is a classic storage solution, but what if you want to personalise it? Read on and watch our how-to film to see how to give your shelves a fast, affordable makeover with fabric.
What you will need
BILLY bookcase, 3m fabric (for a 3-shelved BILLY), chalk, tape measure, spray mount, staple gun, fabric scissors
Iron the fabric, then lay it flat.
If updating an assembled BILLY, remove the shelves and pegs and measure the inside.
For a new BILLY, measure the inside of the top, back and sides (where there's a groove, measure to that point only). Measure each shelf, adding 5cm to the depth.
Covering your BILLY
5. Take everything outside. Lightly mist the surface area of one part with spray mount and the edges of the matching pattern piece.
6. Place the pattern piece on, smoothing it with your hands. Fold the extra fabric over the edge of the shelf to secure it in place.
7. Repeat steps 5 and 6 for all parts. Once all the fabric is stuck on, staple it every few centimetres at the edges to secure.
"
For the neatest finish, use the existing edge of the fabric for the side panels, which will be on show. Then there's no need to hem the fabric.
"
Ashlyn Gibson, stylist
Finishing touches
8. If you are covering an existing BILLY, do the same. For an extra neat finish, match up all the fabric edges in the corners before you smooth them down.
9. Before assembling, use a sharp scalpel to pierce the fabric at each screw hole. This will prevent the screws from tearing the fabric when you fasten them.
If you're covering an old BILLY bookcase you may find it easier just to cover the back panel as you can easily slide it out and back in again.
BILLY, my way
Fourteen-year-old Karlotta chose the VATTENMYNTA fabric to cover a BILLY bookcase for her family's living room. "It was fun to work with the fabric – it's my favourite fabric from IKEA! I love to change things with simple skills, and it was so fast and easy. I like the shelf with the flowers much more than before – it looks cosier…"
Always supervise children using tools during craft projects.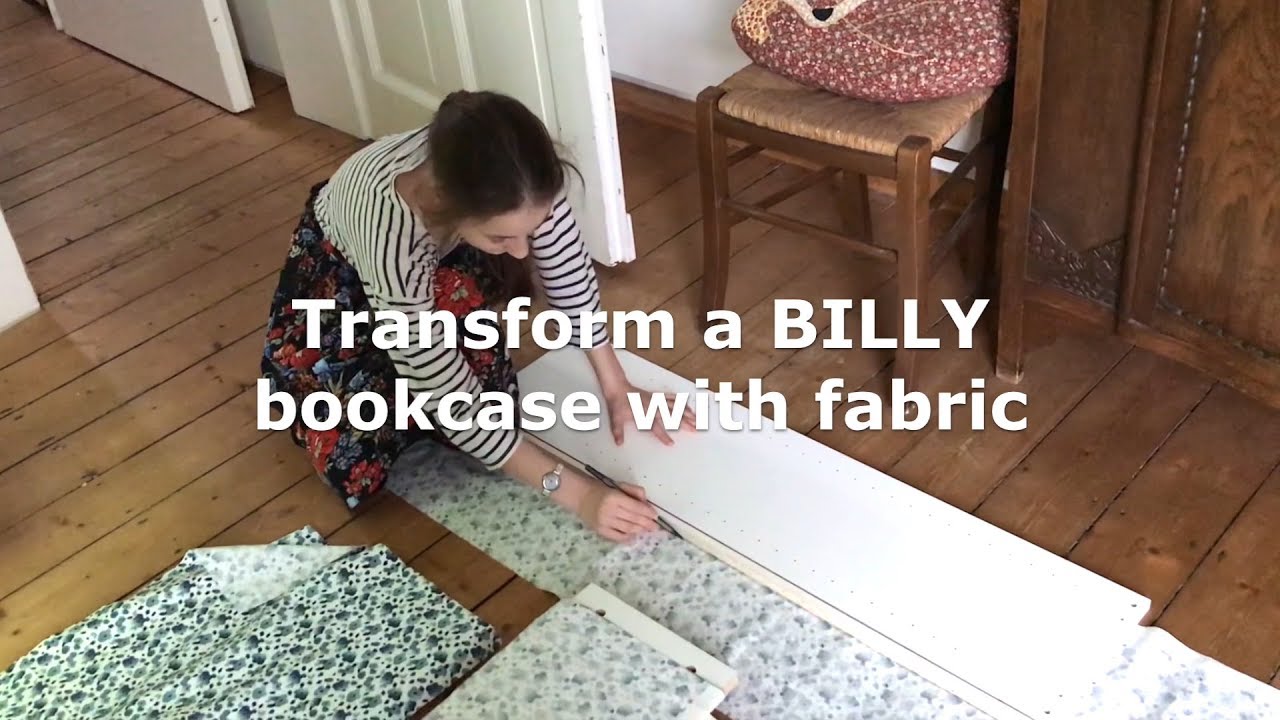 Watch the BILLY how-to
Watch our how-to video to see step-by-step instructions of how Karlotta covered the BILLY bookcase in her home.
We love to see our customers get creative with our products. Go for it! But please note that altering or modifying IKEA products so they can no longer be re-sold or used for their original purpose, means the IKEA commercial guarantees and your right to return the products will be lost.
Made by
Interior stylist: Ashlyn Gibson
Photographer: Lina Ikse