#IKEAhomestories - Episode 3
For the third episode of #IKEAHomeStories, we invite you to Shailly's home. Watch how Shailly and her husband turned their cluttered kitchen into a highly functional space with a little help from IKEA.
A kitchen that's all about organising.
Shaily, an interior decorator, lives in Mumbai in a small 1BHK apartment with her husband and their 3 cats (pspspsps). She loves being surrounded by nature; the reason behind her house being full of plants. She was looking to revamp her kitchen space which lacks storage and organisation.
"
I knew that IKEA is going to create some magic in my kitchen. Of course!
"
ShailyInterior decorator
Already an IKEA Family member?
Well, here's your chance!
Register now for a chance to be featured in the next #IKEAhomestories episode. Let our designers help make your every day brighter, with home furnishing expertise and a range of solutions.
Hurry! Registrations close on 18 May 2021.
Let's plan together
Our remote planning tools and our home furnishing experts are there for you to help you conquer your space, at a time that suits you. 
Know more
A clutter-free kitchen
Our first solution was to organise the kitchen, create space for their various kitchen activities and keep the clutter away. The JONAXEL system is a space-efficient solution that stores all the cooking ingredients and makes them accessible right away. The best part of this system is that it can be customised according to your specific storage needs!
A lamp for most needs
To help Shaily and her husband with dedicated kitchen activities, we have added an NÄVLINGE lamp which will now help them in carrying out specific kitchen activities under a focused, glare-free light. Should they need it in some other area of the house, they can always detach it from the holder.
Access everything
The MÄSTERBY step stool is added to the kitchen to help Shaily access all the solutions that are kept at a height. It also supports her in sitting down when she needs to cut/slice/peel/prepare for a meal. 
Organisation is key
To maximise the organisation in this kitchen, we have left no rails uninstalled. The wall-mounted KUNGFORS series helps in keeping in all the essential kitchen tools and accessories at hand and in plain sight while cooking. The shelves on the wall add extra storage possibilities for Shaily to keep all things neat and accessible.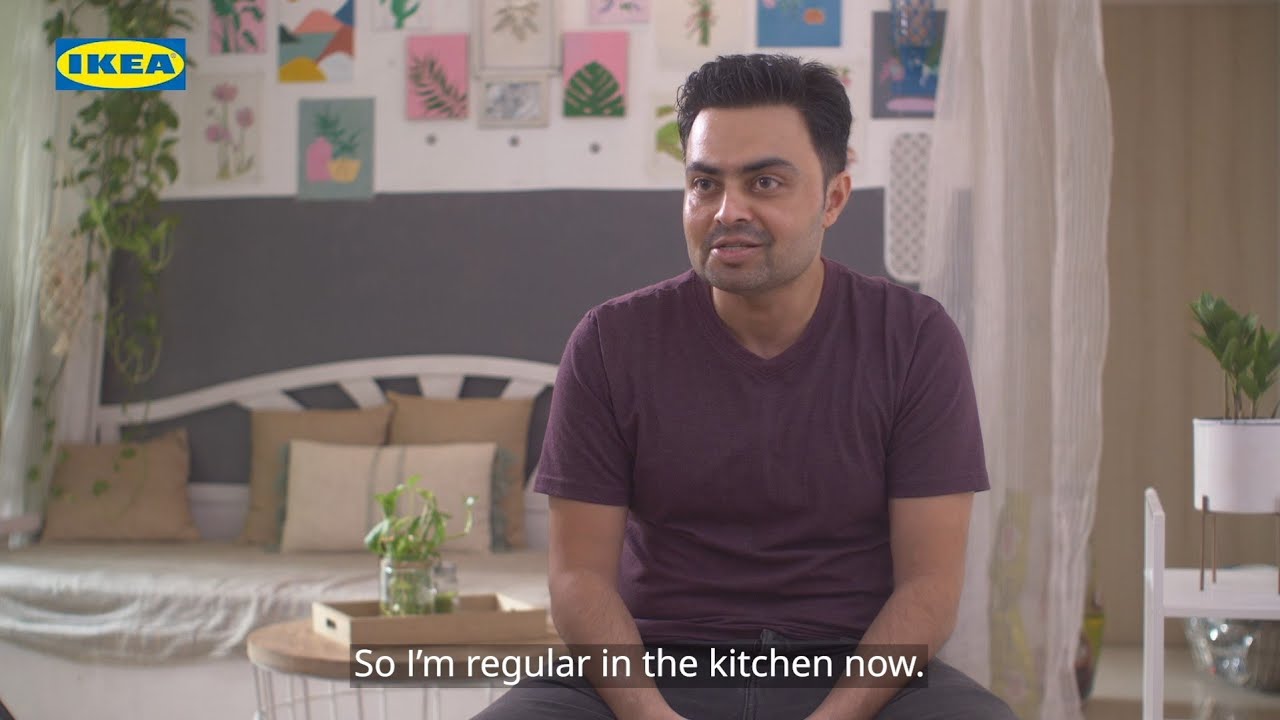 He cooks. She cooks too.
Watch Shaily's husband talk about how chores have been divided between them in the kitchen space.
Ikea India Private Limited ("IKEA") is a private limited company incorporated in India with a vision to create a better everyday life for the many people. To accomplish this vision, we at IKEA reach out to the many people through multiple channels to demonstrate and showcase our products and range and their effective utilization in the homes of the many people. The "IKEA Home Stories" is one such campaign that allows IKEA to reach out to its prospective consumer and showcase the products and IKEA range. 

1.IKEA Home Stories:
The IKEA Home stories is a house/room makeover concept, wherein the eligible participants based on the eligibility criteria as defined below may be selected, at the sole discretion of IKEA for the chance to win a House/Room makeover free of charge. Intending participants are required to fulfil the eligibility criteria and submit the application along with the requisite additional information, if any, sought by IKEA.   

2. Eligibility and Entry:
- Entry into the Contest will be deemed as acceptance of these terms and conditions.
- IKEA shall have the right, at its sole discretion, and at any time, to cancel/amend/ change/ modify these terms and conditions and/or Contest/makeover, without notice, and such change shall be effective immediately.
- All personal information shall be used in accordance with IKEA Privacy Policy detailed hereinbelow.
- Any disputes will be subject to the exclusive jurisdiction of the courts of Bangalore, India.
- IKEA reserves the right to take any relevant legal action on any of the participants.
- All participants must be "IKEA Family Members" to submit their entries to enter this Contest.
- Participants who fill in the requisite form and submit the application with all the relevant details shall be eligible to be a participant in the Contest.
- The privileges/rights and obligations of the winning participant cannot be transferred/assigned/sold to any other person/entity.
- IKEA reserves the right to select the winning participant at its sole discretion.
- All decisions around the makeover including but not limited to the choice of products, which room is selected, costs, etc shall rest solely with IKEA.
- Participants are allowed a window of 4 weeks from 22nd April 2020 to submit their entries. ("Participation Period")
- No entries shall be entertained after the Participation Period.
- Only the winning participant shall be approached by IKEA. Participants are requested to note that no regret emails shall be sent to the non-winning participants.
- Participants including the winning participant shall maintain confidentiality and refrain from showcasing their entries/videos anywhere else including social media.
- The winning participant must consent to have representatives of IKEA enter their home to do the work, shoot and finally publish this material on social media and enter into an agreement for the same as shared by IKEA.
- The winning participant shall be in touch with a designated IKEA point of contact as will be mentioned in the agreement.
- Winning Participants will be required to adhere to the timelines as stipulated by IKEA, including but not limited to time for any discussions, planning, revert required, assembly, installation, working, shoot etc.
- Winning participant shall not be allowed to replace/ exchange any products which shall be used in the makeover. The winning participant shall execute an agreement with IKEA immediately upon selection as the winner of the Contest and shall abide by all the terms and conditions of the said agreement during the course of the said makeover and thereafter.
- If the winning participant does not sign the agreement within a period of 7 working days from the date of receipt of communication from IKEA, then IKEA reserves the right to cancel the selected participants' registration and choose another winning participant.

3. Liability:
- IKEA does not accept any responsibility for any damage, loss, injury, or disappointment suffered by any participant/winning participant entering the Contest or as a result of entering the Contest.
- By entering the Contest, participant/winning participant agrees that no claim relating to any losses or injuries (including financial, mental, physical, emotional, special, indirect, and consequential losses) shall be asserted against IKEA, its parent companies, affiliates, directors, officers, employees or agents from any and all losses, damages, rights, claims, and actions of any kind resulting from the Contest, including without limitation, personal injuries, death and property damage.