How our home influences our well-being
 Have you stopped to think about how much of your life is spent indoors? There are many studies on how environments and spaces influence people, but most focus on construction-related aspects. However, there are other aspects to consider when designing a home, because this environment also impacts our emotions and our brain. That's why the design of any space must meet these needs.
In Making a home, we've spoken with architect and neuroarchitecture expert Juan Luis Higuera Trujillo, who tells us how our home influences our well-being and provides us with some design tips to achieve spaces that are more welcoming and beneficial for our emotional health. We hope you find them useful!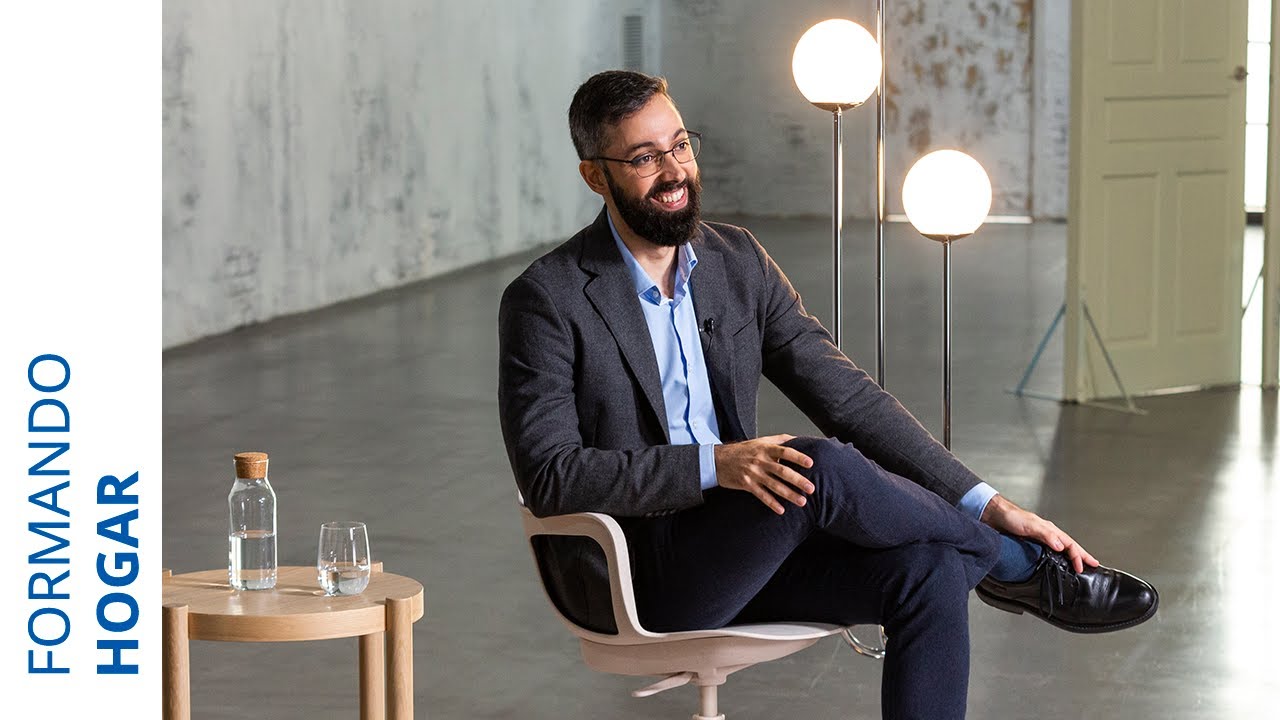 How decoration and organisation affect our emotions
Juan Luis Higuera Trujillo is an architect and researcher in Neuroarchitecture at Valencia Polytechnic University. With his help, we wanted to discover what the perfect home spaces look like for our well-being. Discover his recommendations!
Which things should we consider when decorating our home with well-being in mind?
When designing a home, all possible design variables should be taken into account. Some of the most studied variables include geometry (including contours and ornaments, for example), lighting, colour and the presence of natural elements. But design isn't defined by these variables alone, nor is it purely visual. We must pay attention to all of our senses. The more variables we can harness, the greater the impact will be. 
How does organisation influence our well-being? 
Organisation helps us to find patterns. This cognitive and emotional influence has an impact on our well-being on several levels. If we consider the functional level, it's evident that organisation helps us to be more efficient in our activities. For example, in an organised workspace, we have our tools at hand and can complete our tasks sooner. Otherwise, this can have a negative impact and reduce our well-being. However, the influence of organisation goes beyond the functional level.
Our brain works to understand the significance of patterns in the space around us, even if we're not doing a task that requires it to do so. It has been found that we prefer patterns that are moderately complex, yet organised. It's all about creating an environment that adequately stimulates our brains, but not overdoing it. Striking a balance is key.   
What does the ideal resting place look like?

And the ideal work zone?
On a functional level, we must decide which activities (and associated requirements) we'll address for each use. On the cognitive-emotional level, we must configure and adapt all possible design variables. Doing so in an individual way requires an experimental study in neuroarchitecture, which isn't always possible. Fortunately, there are some key trends that serve as general guidelines, and knowing more about these can benefit us all.
In this case, one approach would be to start with colour and lighting. For example, a space to rest (such as a bedroom), may require moderately warm, saturated tones, with subdued and indirect lighting and a workspace (such as an office), may require cool, unsaturated tones, with cool and intense (non-bothersome) direct lighting. Colour and lighting offer a myriad of configurations and combining them can allow us to achieve very different and powerful atmospheres.
In this regard, the most appropriate thing will always be to separate and adapt spaces for a single use. When separate spaces must coexist (such as a student's room, where studying and sleeping are both important), we must consider configurations with multiple uses or adaptable solutions. It's a creative challenge, but there are more and more technological or multifunctional solutions that make this easier. 
Do materials and furniture have a role in well-being?
 Materiality is very important for the cognitive-emotional level, and therefore for our well-being. This is because it involves many variables. On one hand, materials have specific objective variables, such as their colour, reflectivity, how they feel, smell etc., and each of these variables has a cognitive-emotional effect. On the other hand, materials also evoke subjective variables, such as an association with familiarity or novelty, social status, cultural notions etc. Given that simply changing the colour of a room or a piece of furniture can generate a significant change in one's emotional state, materiality is a very important issue for a design that's focused on creating well-being.
And does the decoration of our homes have an effect on our mood? 
The entire environment that surrounds us has an influence on both a cognitive and emotional level. Each element of our environment has a greater or lesser effect. In this regard, decoration is a matter that involves many variables. In fact, decoration is the only way to transform the atmosphere of a space. This can be done in exclusivity, i.e. when it's not possible to modify other variables (such as the overall colour or lighting of a space) or in conjunction with other variables (taking advantage of the synergy that arises when different variables are considered during the design process). In addition, some decorative elements may have a complementary impact. For example, a plant as a decorative element can help to create a more natural atmosphere that reduces stress, or a piece of furniture can contribute to the overall tidiness of a space. Therefore, during the design process, you must pay close attention to decoration.
"
Our homes represent a significant financial investment and are where we spend most of our time. That's why it's essential to adapt it to our functional and emotional needs.
"
Juan Luis Higuera Trujillo
How is neuroarchitecture implemented in spaces?
There are two different approaches: experimental neuroarchitecture or scientific literature-based neuroarchitecture. Each approach is different in its scope and precision.
Experimental neuroarchitecture is carried out using research groups. Currently, we are one of a few teams doing this internationally. This is partly because it is still an emerging discipline (we were one of the pioneers in the field – we've been researching this for 10 years in the Neuroarchitecture Laboratory at Valencia Polytechnic University) and partly because of the particular technological and scientific infrastructure required. It is not yet possible to study this from an architecture studio. With this approach, the entire space could be adapted to the cognitive-emotional needs of its specific users. It would be a space designed using experimental neuroarchitecture.
Neuroarchitecture based on scientific literature uses the results that research groups have published in specialised academic media. These results are occasionally extrapolated into design guidelines. While it is not the traditional way of working and is still rare, more and more architects and designers can use these design guidelines. With this approach, some parts of the space could be adapted to the cognitive-emotional needs of users in general.
I tend to use the same analogy. It works just like clothing: we can design a bespoke suit (experimental neuroarchitecture) or design a suit which takes into account some of the measurements of users in general (neuroarchitecture based on scientific literature).