How to decorate a children's bedroom in blue tones
Want to decorate your child's room with a touch of colour? In the following article, we'll inspire you with a tour of a bright and cheerful children's bedroom decorated in blue tones. Keep reading and discover how to apply these interior decorating tips to your little one's room. Play with colour, dream in colour.
Take a look!
Choosing a colour for a children's bedroom
Choosing a feature colour for a bedroom, whether it's for an adult or a child, is simpler than it seems and we're going to prove it to you. 
Obviously, you always need to factor in your children's tastes, but we recommend doing a little bit of research into the colours you have in mind to find out how to combine them or incorporate them well. Did you know that each colour has an effect on our perception and energy? Here's why we chose blue.
According to colour psychology, blue tones are often associated with concepts such as serenity and calm because of the feelings they evoke. That's why it's the perfect colour for a dedicated relaxation area, like this bedroom. What's more, lighter blue hues are usually associated with childhood and youth, while darker blue hues are more associated with adulthood and maturity. 
For all these reasons, we've opted to play with this colour, as it's perfect for encouraging sleep and lets us maintain a certain sense of youthfulness.
Decorate the bedroom with textiles 
We all feel the need to change our bedroom decor every now and then to give it a fresh and revived touch, and when it comes to children it's perfectly normal for their rooms to change from time to time as they grow up and their tastes change. 
Therefore, because this room isn't just going to change with the seasons, we recommend that when it's time to decorate the bedroom of a child or teen, you do it mostly with textiles. Why? It's very simple. By painting furniture and walls white, you'll always have a "blank canvas", as it were. This will give you more freedom to change up the decor whenever you want and in a much more affordable way. Just change some covers and small decorative details.
For example, here we've played with a reversible duvet cover that gives us two blue decorative options in one product. These covers are made from sustainably grown cotton, so they're much more environmentally friendly. What do you think?
Apply flourishes of colour with accessories
As mentioned, the bed textiles were a key feature when decorating this child's room, but we can go one step further and carry our chosen tone throughout the rest of the room to create more harmony. See how we did it:
A rug is a really useful accessory for a children's bedroom, as it not only lets you decorate the space and maintain the room's natural warmth, it's also perfect for our children to play comfortably on the floor and it absorbs sound. That's why we jumped at the chance to pick this turquoise one which, in addition to being made from recycled polyester, matches the blue that we've incorporated throughout the room. And what do you think of the coat stand? It complements the decor and is extremely handy for hanging objects.
We shouldn't just focus on textiles — we can also incorporate colours through other objects in the bedroom. A memo board, like the one shown in the image, is an accessory that will allow you to arrange and display these objects in an affordable and original way. Let your children personalise their room with what motivates and inspires them most!
Although this detail doesn't feature the colour blue, we believe it can serve as an idea to incorporate into any children's bedroom.
And this fun children's lamp is customisable. It can be drawn and painted on with whiteboard markers, becoming a perfect way to decorate your children's room and give it an original touch.
Beautiful, intelligent children's decor
The great thing about the main furniture being white is that we can decorate everything around it however we like, including the objects we want to store in them.
For example, if you have high ceilings you can make the most of the top of the cabinets by arranging some decorative objects, as we've done with the wizard hats. At the bottom, we've decorated the space with the children's favourite toys so that they are always within reach. Because they're the heaviest ones, keeping them low down to avoid accidents is advisable. Here, because there are several pieces, we've grouped them into practical toy boxes. If you prefer, these can also be coloured instead of semi-transparent to match the bedroom.
Speaking of toys, do you want some advice on keeping them organised? Check out this video.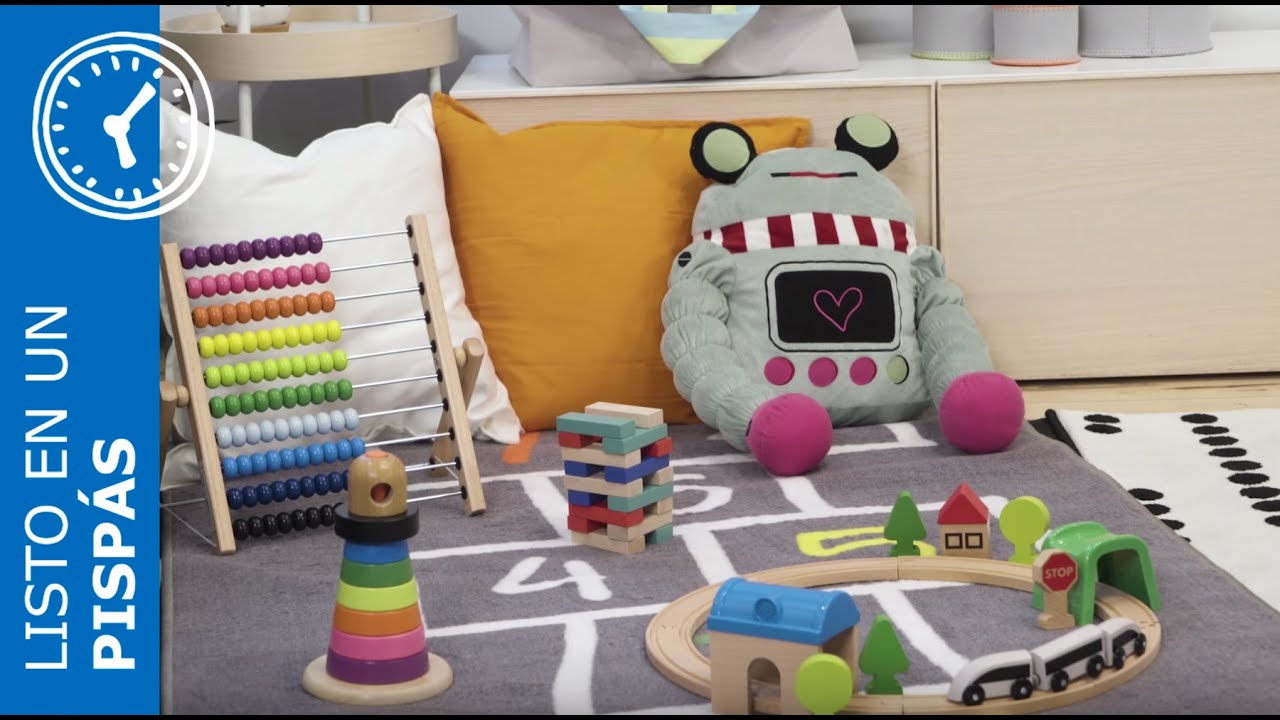 Storage solutions, as you can see, can also be a great way to decorate a bedroom.
In this part of the room we've made the bulkiest objects visible and these also follow the blue tones. We've put any objects that aren't in this colour scheme or are simply more complicated to store, in organisers and boxes, just like in the above example. This way, we'll (almost) always have a tidy and beautiful bedroom.
Want another idea? You can opt for wardrobe door handles that tie in your chosen colour to give them that decorative touch. It's all about experimenting!
Follow these simple and practical decorating tips to transform your child's bedroom. If you're looking for more ideas to inspire you, take a look at this special selection of articles.
We love it when customers use our products in a creative way. Why not try to do something new with them yourself? But do remember, any modifications or changes that you make to IKEA products will prevent them from being resold or used for their original purpose, thus invalidating IKEA product warranties and your right to return them.