Open-plan living for the whole family
'Our house is an on/off home,' says Sara. 'When the boys are here, things get a lot livlier. Our rhythm changes – one day, it can be very quiet, the next, there's a football match and the noise levels go up. But I can still sit at the table and read a book while they're enjoying their match.'
Sara's home truths
My home is... a place where the whole family can feel connected.
We have a big family... so it's important we all have our own space as well as our together areas. I think we've managed to get the balance right.
We've lived here for 10 years... so things do change as the kids get older. Having teenagers can be noisy but I like to find sustenance in creating calm.
My kitchen is... is my favourite room. I love the flexibility and the variety of possibilities it gives us as a family.
My inspiration... is the summer house I inherited from my mother, I use the blues and greens, oiled wood and grey stone of the countryside surrounding it to decorate this place. It gives a relaxed country feel to our city home.
A flexible home with good energy
Every week, Sara's family grows from three to six – and back again. 'When we're three, it's just me, Patrik and our daughter Alma (6). When we're six, Patrik's sons Anton (15) and Emil (13) and my son Elias (13) join us,' explains Sara. 'It means there is a constant shift in energy and our home has to be a mix of things at different times. But we've made sure there are enough spaces for all of us to enjoy.'
A kitchen to bring family together
'We opened the kitchen up to the living area and entrance so the rooms are more connected. Closed storage creates a streamlined look but I also like use rails and shelves to display chopping boards and utensils – they warm up the space.'
"
Our hallway is a multifunctional space – the perfect spot for a home office and somewhere to keep our coats and shoes
"
Sara, accountant, Sweden
Add personal touches
'A bedroom should reflect who you are and be relaxing at the same time, so I like to keep it simple with natural materials, soft colours and family photos,' says Sara. 'Patrik is a carpenter so he made the white wooden headboard himself. I think it's a nice way of adding a unique touch to our bedroom.'
More than just a bedroom
'We had a spare sofa that we put here in Anton's room – it forms an L-shape with his bed to create the perfect chill-out corner for the boys, or for Anton and his friends when they come round.'
"
It's easy to add a burst of colour in Alma's bedroom using bedding in her favourite colours. She loves her bed canopy too and says it feels very cosy
"
Sara
Have a living room in the garden
'In the summer we like to spend time outside in the garden as a family. We like to add cushions and throws for extra comfort.'
Flexible family living
Sara's home accommodates every generation and there's a place for every activity. The family enjoys spending lots of time together but Sara and her husband Patrik have also been mindful to create a versatile home that gives everyone a space of their own too.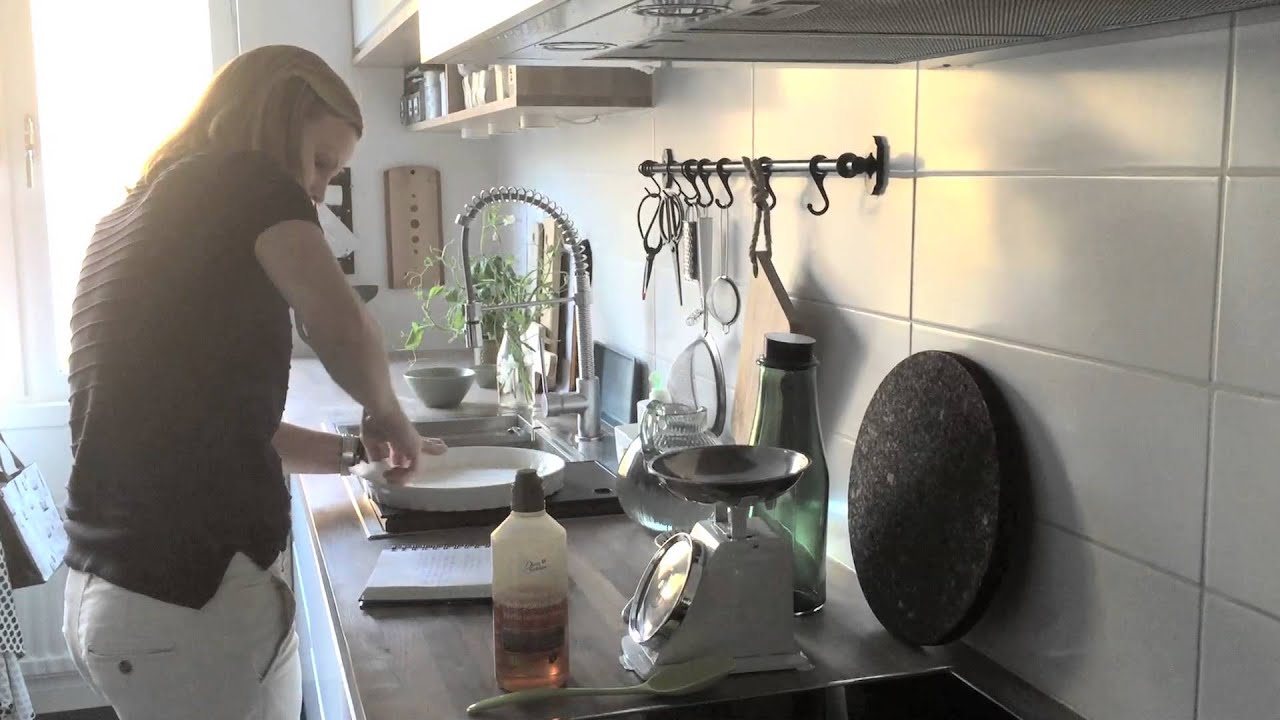 Sara's home: living with teens
Sara has created a home where the whole family can feel connected and have their own space too. She loves the flexibility of open-plan living. Video created in Sara's family home in Sweden. To see more ideas, visit: www.ikea.com
We love to see our customers get creative with our products. Go for it! But please note that altering or modifying IKEA products so they can no longer be re-sold or used for their original purpose, means the IKEA commercial guarantees and your right to return the products will be lost.
Made by
Photography: Polly Wreford
Styling: Åsa Dyberg
Artwork in dining room (map) © Madde Design