How to furnish My First Home
Home. The start of a new chapter in the book of life. The beginning of new memories and adventures. 
That's why we want to be with you in every step of the way, and share our furnishing tips - cumulated with 80 years of experience. Go ahead, turn the key and step into your first home.
Bookmark this page "My First Home" for periodic updates! 
Get more inspirations
Need more ideas while planning for your new home? See photos of IKEA products from real homes around Singapore and Southeast Asia, discover IKEA in real homes shared by the community.
New home package: Get $300 IKEA vouchers and free delivery
Moving into a new home, renting a new space, or renovating your home? Get a $300 IKEA voucher for every $2,000 spent on Home furnishing products (except METOD kitchen, appliances and gift cards) and one-time free delivery when you shop in-store. Exclusively for IKEA Family members.
Valid until 30 April 2024. Terms and conditions apply. 
Shop now
Coffee tables that work hard to please
These tables aren't just for your cup of coffee. With extra (hidden) storage delights, It's easy to stow away extra tidbits, toys and more! 
Let's bring joy to the home this Christmas
Bring back intangible moments, memories, sounds, smells, and tastes from happy times. And create more of these precious experiences with your loved ones.
Further reduction on our Christmas range, up to 60% off, and IKEA Family members get an extra 10% off in-store only.
Shop IKEA's Christmas Shop
Space tips for your dining area
Eating together is a great way to have meaningful interaction with family and friends! Being familiar with some standard space requirements helps to plan comfortable eating spaces.
The more the merrier, need more space for friends and famiy? Find flexibility in the number of friends and family you invite over for meals and get-togethers, with extendable tables, drop-leaf tables and tables that double up for parties. 
Spend $4,000 METOD kitchen and get free installation & delivery
Planning the kitchen flow
What are the main activities that will take place in your kitchen? Some of the main activities include cleaning and preparing food, storing food and supplies, and washing up.
Placing the different functions for these activities according to the workflow and with comfortable distances between them creates a safe and practical environment.
Need help with your kitchen planning? 
Meet a dedicated kitchen specialist for a free 45 mins consultation to walk you through the different options available to help you get started with your dream kitchen. Kitchen consultation service is available at IKEA Alexandra, IKEA Tampines, and IKEA Jurong. 
Placing main functions and appliances according to the natural workflow saves time in the kitchen. 
For a right-handed person, the components should be placed in the following order from left to right; dishwasher (or counter space for a dish drainer), sink, workspace, cooking unit, utility surface. Use the reverse order for a left-handed person.​​
Creating Dream Kitchens for the many people
At IKEA, we understand that a kitchen renovation is not just about updating the physical space, but also about transforming the heart of your home into a place where memories are made and shared. 
 From small updates to complete remodels, each testimonial offers a unique glimpse into the incredible impact that a well-designed kitchen can have on one's daily life.
Read more customer reviews of IKEA kitchen
Build your very own dream wardrobe with PAX
Did you know that you can plan your own PAX wardrobe from the comfort of your home?
Our wide range of storage solutions offer great flexibility to suit your needs, whilst having the best quality that you can count on. Proof of this is the 10-year guarantee that come with our PAX wardrobes and interior organisers.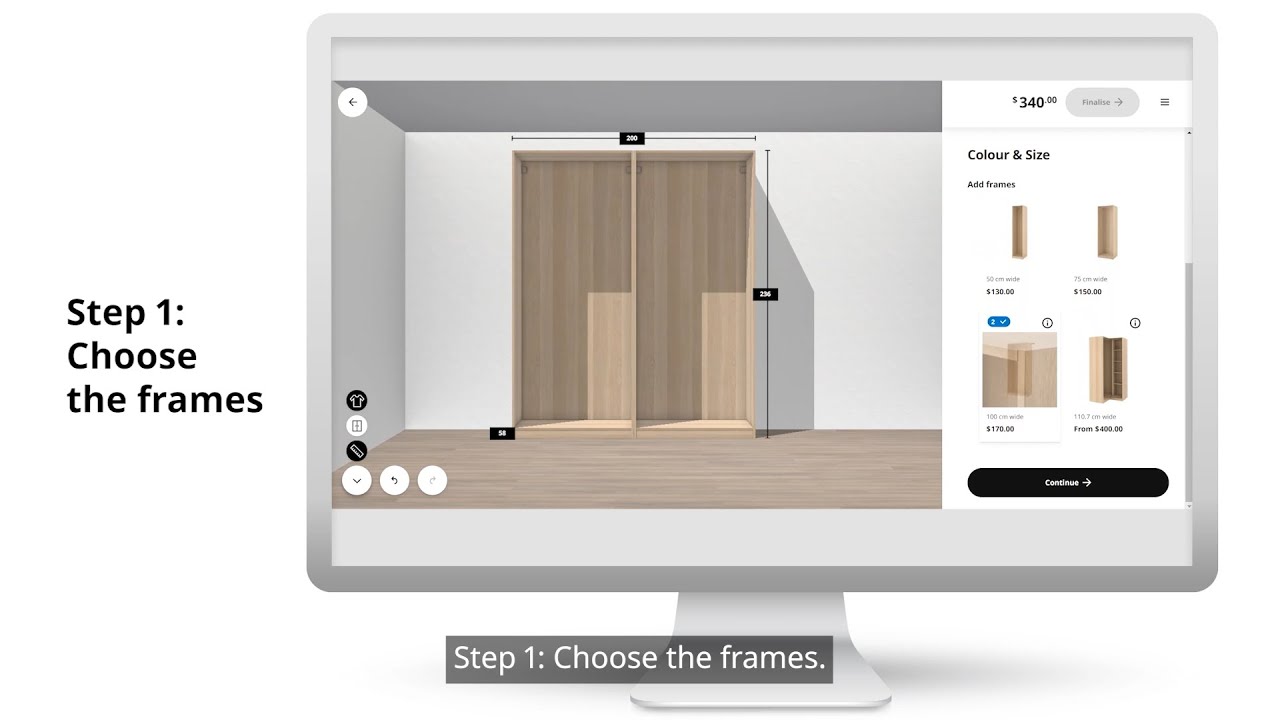 7 ways to organise kids bedroom storage
Having a place for everything definitely makes it easier to keep things tidy in your child's room.
Good storage can also help make it fun for them to organise their toys and nick-nacks all by themselves – even more so if you let them decide where all their things should go.
Setting up a workspace with your wellbeing in mind
It is super important to have a place in the home where we can concentrate and feel comfortable. Whether you want to maximise space in a small office or make your desk space more efficient, we've got 3 simple tips to setup your workspace for success and better wellbeing.
Shop now
Step 3:  Choose the right lighting for Workspace
When it comes to a work area, the matter of lighting plays an important role. Whether at your home office or your desk, the right lighting can aid in productivity, mood and alertness. Choose warm lights for relaxing, and look to cool lights for concentrating or working.  
The Bathroom – answer nature's call 
Planning your bathroom space? Place bathroom fixtures so that they are convenient and comfortable to use. 
The bathroom is not only about functions but also about style, inspiration, relaxation and pleasure. Designing yours is a chance to infuse the space with personal style and create a sanctuary that reflects your unique needs and preferences.
Maximising space in the bathroom
There are plenty of smart ideas to help make the bathroom space more efficient, like clever use of mirrors, hanging personal care item on walls and using doors for storage.​​
Do I need home contents insurance? 
Having a home insurance plan provides you and your family peace of mind, because we protect against perils like fire, flood and natural disaster. ​
Home contents insurance developed for IKEA customers is the comprehensive plan for you. ​
Use promo code IKEA10HOME for SGD 10 off
Find out more
Shop products for a more sustainable home, and enjoy IKEA Family offer on selected items in stores